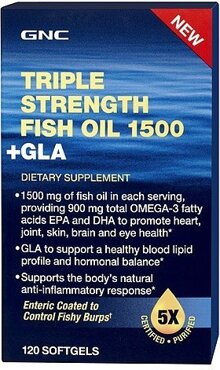 GNC Triple Strength Fish Oil 1500 + GLA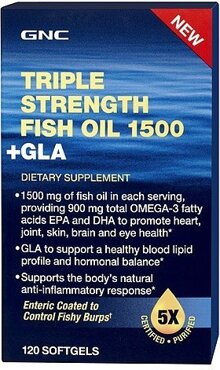 GNC Triple Strength Fish Oil 1500 + GLA
NEWDIETARY SUPPLEMET
1500 mg of fish oil in each serving, providing 900 mg total OMEGA-3 fatty acids EPA and DHA to promote heart, joint, skin, brain and eye health
GLA to support a healthy blood lipid profile and hormonal balance
Supports the body's natural anti-inflammatory response
Enteric Coated to Control Fishy Burps
5X Certified – Purified
GNC Triple Strength Fish Oil 1500 Plus GLA contains 1500 mg of fish oil in each serving, including 900 mg of heart-healthy omega-3 fatty acids EPA and DHA which are necessary for optimal brain function, along with 100 mg of GLA (gamma-linoleic acid), an important omega-6 fatty acid that supports a healthy blood lipid profile and also helps regulate several important processes in the body, including hormonal balance. Each softgel capsule is enteric coated which allows the softgel to break down and absorb in the small intestine. This controls or reduces fishy burps.
A landmark study involving over 11,000 participants has confirmed the major benefits of fish oil on cardiovascular health. The omega-3 fatty acids found in fish oil are necessary for heart health. They help support normal, healthy cholesterol levels and are necessary in the maintenance of normal blood pressure. EPA is important for the circulatory system health and also acts as a precursor to hormone-like substances that control vital bodily functions responsible for the body's natural anti-inflammatory response. DHA provides support for healthy triglyceride levels.
GLA acts as a precursor to prostaglandins, an important family of chemicals that help to regulate several essential functions in the body including the cardiovascular, nervous and immune systems, as well as hormonal balance. It also plays an important role in maintaining healthy blood lipid levels, promotes smooth, healthy-looking skin, and supports healthy joint function.
GNC Triple Strength Fish Oil 1500 Plus GLA has been purified and manufactured for freshness. Five separate purification processes are used until each batch of fish oil in our products is found to be free of detectable levels of mercury, cadmium, lead and PCBs. We use only the best quality ingredients derived from wild, deep ocean fish.
* These statements have not been evaluated by the Food and Drug Administration. This product is not intended to diagnose, treat, cure, or prevent any disease.