Quick Links to Best Prices Price History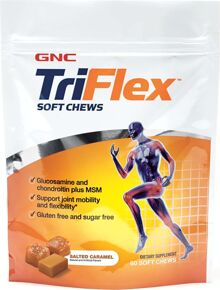 Promotes Joint Health*
Comprehensive program with with clinically proven ingredients
Supports improved joint comfort, flexibility and function, and the body's natural anti-inflammatory response*
Provides clinical-strength doses of our joint comfort blend, Levagen, glucosamine and chondroitin - plus EPA
With four powerful, clinically studied ingredients, TriFlex Daily Pack is our most comprehensive program to support improved joint comfort, flexibility and function. It includes:
TriFlex - Has the full, clinical-strength doses of both glucosamine and chondroitin to support joint mobility and flexibility.* Also contains MSM and hyaluronic acid.
Comfort, Funcation & Flexibility support - Features a blend of natural plant extracts that is clinically shown to provide a 30% improvement in flexibility and 19% improvement in joint function in as few as 30 days.* Plus it contains Levagen, which is clinically studied to support the body's natural anti-inflammatory response.* Also includes turmeric.
Triple Strength EPA 1000 - Contains 1000 mg of EPA, which is the superior Omega-3 to support the body's natural anti-inflammatory response and overall joint health.*