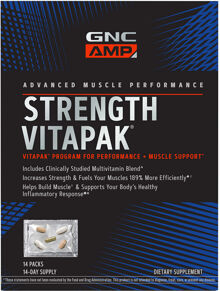 GNC Strength Vitapak Program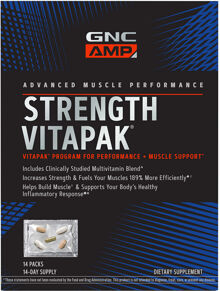 GNC Strength Vitapak Program
MEGA MEN POWERED
Advanced Sports Vitamin System to Enhance Strength Training With Over 50 Powerful Ingredients
Features GNC's Highest-Potency Sports Multivitamin to Fuel Maximum Strength Training
Scientifically Formulated to Improve Upper and Lower Body Strength and Help Pack on Mass
Triggers Anabolic Factors with High-Quality Tribulus & Fenugreek
The Power of 5g of Creatine in 2 Tablet Delievers 189% Improved Muscle Creatine Absorption
What is Pro Performance AMP Strength Vitapak Program?
Strength. Power. Mass. You train and prepare in the gym and on the field to reach your fullest physical potential. Now, with the AMP Strength Vitapak Program powered by Mega Men Sport, ensure you leave nothing under-utilized by maximizing the results of your supplement and training regimen. Each performance boosting pak delivers GNC's most optimal and precise combination of a premium daily multivitamin and sports nutrients. With over 50 powerful ingredients to support your total exercise strength training program, we've taken athletic performance nutrition to a whole new level. This scientifically mastered formula features a daily multivitamin and support nutrients combined with strength supporting mechanisms.
The Pro Performance AMP Strength Vitapak Program Evolution
When activating the strength-building potential of this exclusive system, you amplify total strength results, increase muscular power and prepare your muscles to utilize the nutrients necessary to build mass with this complete training stack.* Most athletes today are not combining the proper combinations and ratios of critical sports nutrition. This advanced multivitamin platform delivered by Mega Men Sport allows well-trained muscles to develop, build and recover. If attaining every possible ounce of strength is your goal to improve your competitive edge, then the AMP Strength Vitapak Program is your new weapon in training.
Mega Men Sport – This high-potency clinically studied^ sports multivitamin formula includes critical components to fill important nutrient gaps in regular supplementation programs. Mega Men Sport contains B-vitamins that are important for energy production and carbohydrate metabolism.* It provides amino acids, including BCAA, and a joint cushioning blend for healthy joint cartilage.* Also features a broad spectrum of cell-protecting antioxidants and nutrients that aid in boosting immunity.*
Amplified Creatine 189™ – This advanced, cutting-edge formula has been clinically proven to get in your muscles better than ordinary creatine. Creatine promotes cellular hydration and helps fuel muscles to improve and enhance athletic performance.* This form increases strength with only 25% of the dose of ordinary creatine. In a clinical study, this form of creatine yielded 189% muscle creatine uptake relative to ordinary creatine monohydrate.† This allows you to take less and getmore into the muscle!
Tribulus Terrestris & Anabolic Primer – Features high-quality Tribulus Terrestris and Fenugreekextract clinically studied to support anabolic muscle factors in the body.*