Quick Links to Best Prices Price History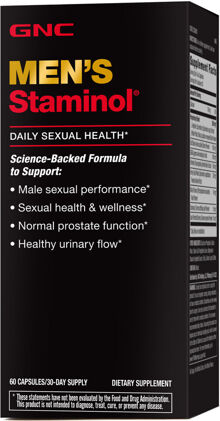 POWERFUL MALE PERFORMANCE FORMULA
Includes arginine and maca to support male vitality*
Includes Horny Goat Weed and Yohimbe for enhancedactivity*
Contains saw palmetto to support the normal prostate function and healthy urinary flow*
Staminol™ combines exotic herbswith L-arginine to enhance male performance. Use Staminol™ before activity.Herbal Blend
This powerful formula combines L-arginine with popularherbs such as yohimbe, damiana, horny goat weed, and maca.
Saw Palmetto
Contains saw palmetto and other premium ingredients to supportnormal prostate function and healthy urinary flow.*
To ensure more complete nutritional program, be sure to include GNC's premium Mega Menmultivitamin formulas in your daily nutrition regimen.
Frank J. Costa M.D., an acclaimed urological surgeon and men's health expert, is part ofthe GNC Medical Advisory Board.
One of "American's Top Physicians," Dr. Costa lectures nationally and internationally on men's health topics. Dr.Costa is regularly featured in television, radio and newspaper interviews and has published articles in both professional journals and popularmagazines.
"Staminol™ combines popular herbs widely used by men. This premium formula is produced following GNC's strict guidelines,providing you the best product on the market."
This product is ship restricted to California. For the California version of this product,
Click Here
.