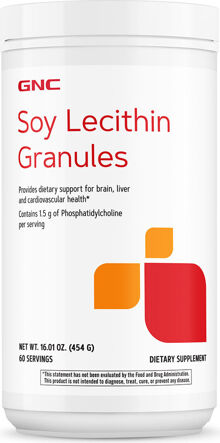 GNC Soy Lecithin Granules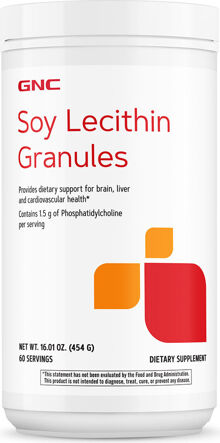 GNC Soy Lecithin Granules
Lecithin is a natural edible oil that offers many benefits:
It may help the body to emulsify fat*
Provides dietary support for a healthy cardiovascular system*
Provides support for a healthy nervous system function*
Provides dietary support for a healthy liver*
Helps support normal choline levels during exercise*
Derived from the Soybean, which is a natural source of essential oils.
Dietary source of phosphorus and unsaturated fatty acids.
Each serving 250 mg of choline.
Convenient to use and can be sprinkled on food or mixed in juice or water.
* These statements have not been evaluated by the Food and Drug Administration. This product is not intended to diagnose, treat, cure, or prevent any disease.