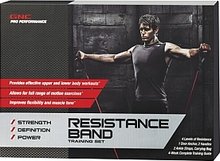 GNC Resistance Band Training Set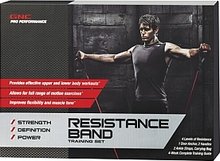 GNC Resistance Band Training Set
Provides effective upper and lower body workouts
Allows for full range of motion exercises
Improves flexibility and muscle tone
Comfort grips provide durability and comfort
Four varying resistance bands
The door anchor allows you to alter the angle of resistance
4 Levels of Resistance
1 Door Anchor, 2 Handles
2 Ankle Straps, Carrying Bag
4-Week Complete Training Guide
Use the same gear as used by Collegiate and Professional Athletes
GNC Pro Performance sports training gear is the perfect complement to complete your athletic training. You already trust GNC to bring you the premium dietary supplements to help you achieve your goals, now you can take that one step further with athletic specific performance and training products. This innovative sports training gear is designed to help athletes improve in competition and reach their full athletic potential. The brand you trust, brings you the tools you need for success.
DR. VICTOR PRISK, M.D.,
is an acclaimed orthopedic surgeon, former collegiate All-American athlete and world renowned sports medicine expert. Dr. Prisk endorses GNC Pro Performance sports training gear. A member of the GNC Medical Advisory Board, Dr. Prisk has been involved in research projects and medical presentations across the country. Also a renowned author, Dr. Prisk's publications have been featured in popular magazines and professional journals.
* These statements have not been evaluated by the Food and Drug Administration. This product is not intended to diagnose, treat, cure, or prevent any disease.