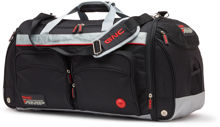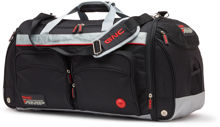 NEW Zippered shoe pocket compartment
Padded adjustable shoulder strap and carry handle
Six zippered pockets
Side pocket ventilation to control moisture
Extra-strong nylon for lasting durability
Extra-spacious fully lined main compartment
Inner padded electronics pouch with audio port
Zippered divided pocket for 2 shaker cups
Dimensions: 26 in. x 12 1/4 in. x 11 1/4 in.