Quick Links to Best Prices Price History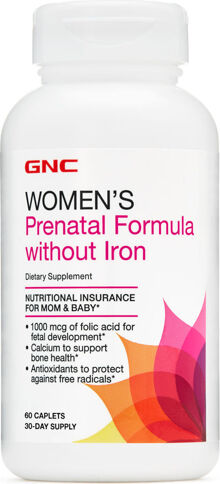 GNC Prenatal Formula Without Iron
GNC Prenatal Formula Without Iron
Dietary Supplement
Nutritional Insurance for Mom & Baby
1,000 mcg of folic acid to support healthy fetal development*
600 mg of bone-strengthening calcium*
400 IU of vitamin D-3 to enhance calcium absorption*
Antioxidants to support immune health*
PRENATAL FORMULA WITHOUT IRON
GNC Prenatal Formula is a premium multivitamin that provides nutritional support for both mother and baby before, during and after delivery. Pregnancy is a special time in a women's life and an important time to be mindful not only of your individual nutritional needs, but the nutritional needs of your baby as well. Maternal nutritional before and during pregnancy affects both your well-being and your infant's growth. As your baby develops through the early phases of life, your nutritional needs will also increase. After delivery, you need an adequate diet rich in essential nutrients such as calcium and folic acid to support nursing and replace depleted nutrient stores. This delicately blended multivitamin offers supplement nutritional support for both you and your baby.b>
Nutritional Support
Supplies a balanced nutritional blend combining vitamins, minerals and antioxidants to supplement a healthy diet. Emerging research suggests that antioxidants can help protect the body from harmful free radicals that can destroy healthy cells.*
Folic Acid
Provides 1,000 mcg of folic acid, critical during the earliest weeks of pregnancy when a baby's organs are forming. Adequate intake of folic acid in a healthy diet before and during early pregnancy may reduce the risk of birth defects of the brain and spinal cord. Folic acid is also required for cell growth and DNA fromation.*
Calcium & Bone Health
Features 600 mg of bone-strengthening calcium which is vital during pregnancy, especially during the third trimester when fetal bones begin to calcify. If a mother's calcium level drops, her body can pull calcium from her bones resulting in a loss of bone density. Also includes 400 IU of vitamin D-3 to enhance calcium absorption.*
An iron-free formula for women who prefer to take a separate iron supplement.

A complete nutritional program should be followed prior to conception through pregnancy and maintained while breastfeeding. Talk to your doctor about adding GNC Prenatal Formula to your daily nutritional regimen.