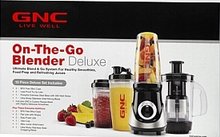 GNC On-The-Go Blender Deluxe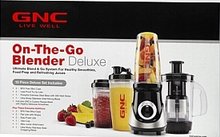 GNC On-The-Go Blender Deluxe
Ultimate Blend & Go System For Healthy Smoothies, Food Prep and Refreshing Juices15 Piece Deluxe Set Includes:
2 – BPA Free 28oz Cups
2 – Leak Proof To-Go Lids
1 – Powerful Stainless Steel Base with 300-Watt Motor
1 – Ultra Sharp Stainless Steel Mixing Blade
Includes GNC's Custom Recipe Book with Healthy Delicious Smoothies
Plus These Exclusive Additions
2 – BPA Free 20oz Cups
2 – Flat Lids with Straws
2 – Stay-Fresh Lids
1 – 10oz Cup
1 – 28oz Juicer Attachment
1 – Ultra Sharp Stainless Steel Chopping Blade>In just seconds, make smoothies, shakes and more! Stylish and compact the On-The-Go Blender Deluxe is designed to look great in any kitchen. The powerful 300-watt motor, dual speed option, plus pulse control deliver premium performance. Choose from a 20oz or 28oz cup to make and take your morning smoothie with you – just don't forget the leak proof to-go lid. Pick the flat lid with a straw or the no spill lid with spout. Feel like juice instead? Simply add the 28oz juicer attachment to the blender and watch it work like a full-size expensive juicer! Mince nuts or granola in the 10oz chopping cup with ease! Made of food-grade stainless steel and shatter resistant BPA free plastic, you can be sure you are getting a quality appliance. All cups and lids are dishwasher-safe - making cleanup a breeze!
* These statements have not been evaluated by the Food and Drug Administration. This product is not intended to diagnose, treat, cure, or prevent any disease.