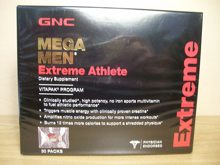 GNC Mega Men Extreme Athlete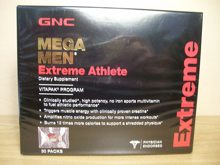 GNC Mega Men Extreme Athlete
Clinically studied, high potency, no iron sports multivitamin to fuel athletic performance*
Triggers muscle energy with clinically proven creatine*
Amplifies nitric oxide production for more intense workouts*
Burns 12 time more calories to support a shredded physique*
Physician Endorsed
GNC Mega Men Extreme Athlete Vitapak Program
is physician endorsed by Frank J. Costa, M.D., an internationally acclaimed urological surgeon, men's health expert, and member of the GNC Medical Advisory Board. "Serious athletes demand a nutritional program with the power to meet their extreme training needs. Mega Men Extreme Athlete Vitapak is specifically formulated for active men who want intense workouts with maximized results. This extreme program features GNC's premium Mega Men Sport multivitamin, along with clinically proven ingredients to enhance metabolism, fuel muscles, and amplify athletic performance. I strongly recommend this product for men who are looking to take their workouts to the next level of intensity." – Frank J. Costa, M.D.
Why Should I Use Mega Men Extreme Athlete Vitapak Program?
Mega Men Extreme Athlete Vitapak Program is specifically formulated for athletes who seriously train. The components in this program help increase your endurance and provide the necessary firepower you need to boost your workouts.*
How Can Mega Men Extreme Athlete Vitapak Program Benefit Me?
Mega Men Extreme Athlete Vitapak Program combines important nutrients that support your overall nutritional needs with focused ingredients designed to intensify your exercise regimen and enhance your athletic performance in one convenient daily pack.
How Does Mega Men Extreme Athlete Vitapak Program Work?
Each serving of Mega Men Extreme Athlete Vitapak Program includes the following components to help you achieve your daily nutritional goals:
Mega Men Sport - This clinically studied, powerful no iron multivitamin supports overall health and wellness. It includes a potent complex of B-vitamins which are essential for metabolism support and energy production.
X-12 - Contains a clinically proven, proprietary thermogenic blend shown to help you burn 12 times more calories. Also helps increase your metabolism before, during and after exercise, helping burn up to 278 more calories cumulatively.** Just one capsule of X-12 contains ingredients to support improved endurance and performance.*
Amplified Creatine 189 - This enhanced, cutting-edge form of creatine is designed to get in your muscles better than ordinary creatine. Creatine supplementation may help improve athletic performance.
Amplified Maxertion N.O. - Features clinically studied ingredients designed to enhance blood flow and amplify intense workouts.* It's technologically enhanced for better absorption of muscle fuel to help you go above and beyond your regular workouts.*
GNC Quality Commitment
For more than 75 years, GNC has been the leader in the development and manufacture of dietary supplements and is committed to producing the most superior products. WE use only the highest quality ingredients manufactured under the strictest quality controls. Every raw material used is tested to ensure its purity and potency. Each product is dated and then shipped immediately to our store to ensure that you are purchasing the freshest supplements available.
GNC Guarantee
If you are not 100% completely satisfied, return the unused portion of the product with your receipt to a GNC store within 30 days. Our trained sales staff will either refund your purchase price or, if you prefer, assist you in finding a replacement product to help you LIVE WELL.