Quick Links to Best Prices Price History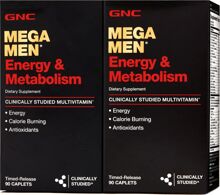 GNC Mega Men Energy & Metabolism
Mega Men&reg Energy & Metabolism
2X MORE D-3
Dietary Supplement
Clinically Studied Multivitamin^
With 1,600 IU of Vitamin D-3 for colon health and immune support*
Boosts energy and metabolis*
Supports mental focus*
Calorie burning support
Frank J. Costa, M.D., An acclaimed urological surgeon and men's health expert, is part of the GNC Medical Advisory Board.
One of "America's Top Physicians," Dr. Costa lectures nationally and internationally on men's health topics. Dr. Costa is regularly featured in television, radio and newspaper interviews and has published articles in both professional journals and popular magazines.
"Lack of energy and slow metabolisms are common concerns of many of my patients. When a regular multivitamin isn't enough, I suggest Mega Men&reg Energy & Metabolism for the extra boost to help them through their busy schedules."
MEGA MEN&REG ENERGY & METABOLISM
Taking a daily multivitamin keeps you on the right track for filling your nutritional gaps. Mega Men&reg Energy & Metabolism is an enhanced multivitamin that provides the same clinically studied base as our Mega Men&reg formula with ingredients that help boost your energy!
Advanced Nutritional Support
Includes 1,600 IU of vitamin D-3. Emerging research suggests that adequate daily vitamin D intake may play a role in supporting colon and immune health.*
Supplies B-vitamins that are essential for energy production and metabolism.*
Calorie Burning Support
Features an energy and metabolism blend that helps boost energy and metabolism and supports calorie burning.* The components in this blend also help support mental focus.*
Antioxidant Protection
Contain a premium blend of antioxidants including selenium, vitamin C and vitamin E to aid in supporting the body's immunity.*
Combines lutein and zeaxanthin, to support eye health, with lycopene, an antioxidant from tomatoes to support cardiovascular health.*
Timed-release caplets provide a gradual release of vital nutrients.
GNC QUALITY COMMITMENT
GNC, the leader in the development and manufacture of dietary supplements, is committed to producing the highest quality products available. This commitment begins with quality designed supplement formulations. Every raw material that goes into a GNC supplement is guaranteed as to quality and potency. Each product is dated and then shipped immediately to our stores, so you can be sure you are purchasing the freshest supplements available. At GNC, we extend our quality commitment to you by offering our money-back guarantee.
GNC GUARANTEE
Use any GNC supplement for as little as 10 days. If you are not 100% completely satisfied, return the unused portion of the product with proof of purchase to your GNC store for a complete refund of your purchase price. No questions asked!