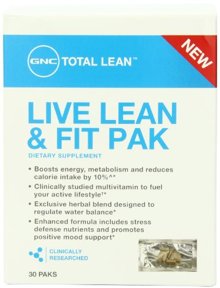 GNC Live Lean & Fit Pak Dietary Supplement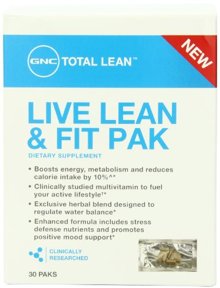 GNC Live Lean & Fit Pak Dietary Supplement
Boosts energy, metabolism and reduces calorie intake by 10%
Clinically studied multivitamin to fuel your active lifestyle
Exclusive herbal blend designed to regulate water balance
Enhanced formula includes stress defense nutrients and promotes positive mood support
GNC Total Lean Live Lean & Fit Pak is a complete Vitapak designed with clinically researched ingredients to help you achieve and maintain the healthy body you want. These premium ingredients help by boosting energy and supporting metabolism. The GNC Total Lean Live Lean & Fit Pak offers you an easy solution to fuel the results you're striving toward.
Four separate components work together to boost your metabolism, ignite your energy, help regulate water balance and promote positive mood support.
Multivitamin:
A premium time-released, clinically studied formula that includes vitamins, minerals and key nutrients that may be missing from your diet. This formula provides an array of ingredients that are required for energy, carbohydrate, fat and protein metabolism.
Appetrex Control:
Appetrex Control is a clinically studied formula shown to help control your appetite and reduce your calorie intake by nearly 10%when you need it most! This scientific formula features energizing herbs like yerba mate and black tea, with EGCG which helps to support your metabolism.
Waterex:
Waterex is an all natural formula enhanced with vital electrolytes to help regulate water balance in the body.
Balanced Mood Support:
This blend features an exclusive blend of natural herbs to provide positive mood support. Each pack contains 100mg of the popular ingredient rhodiola rosea and 50mg of L-theanine to help promote a sense of relaxation.
In a clinical study of 30 healthy adults (who took Appetrex Control one week followed by a placebo one week apart, or vice versa) food intake was reduced by nearly 10% when the subjects took Appetrex Control versus the placebo prior to their first meal at the start of their diet.
In a randomized, double-blind, placebo-controlled study of 112 healthy volunteers, subjects taking the GNC vitamin and mineral blend in this product for six weeks experienced statistically significant improvements in markers of B vitamin and antioxidant status, as well as improvements in SF-36 Vitality and Mental Health scores compared to those taking a placebo.
This product is ship restricted to California.
* These statements have not been evaluated by the Food and Drug Administration. This product is not intended to diagnose, treat, cure, or prevent any disease.