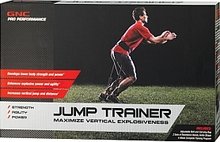 GNC Jump Trainer with Free Training Guide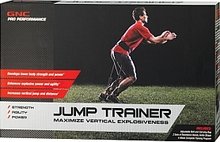 GNC Jump Trainer with Free Training Guide
JUMP TRAINERTHE GOAL:
Increase vertical jump and distance.
Develop lower body strength and power.
Enhance explosive power and agility.
THE GEAR:
2 sets of resistance bands.
2 ankle straps and adjustable belt.
Carrying bag.
THE PREPARATION:
Warm-up with a light jog and dynamic stretching to get your body and muscles ready to train.
Make sure the workout area is clear and has appropriate room to complete the drills.
Follow directions and train hard. See reverse side for individual drills.
Use the same gear as used by Collegiate and Professional Athletes
GNC Pro Performance sports training gear is the perfect complement to complete your athletic training. You already trust GNC to bring you the premium dietary supplements to help you achieve your goals, now you can take that one step further with athletic specific performance and training products. The innovative sports training gear is designed to help athletes improve in competition and reach their full athletic potential. The brand you trust, brings you the tool you need for success.
For maximum athletic performance development use GNC Pro Performance sports training gear in conjunction with GNC nutritional supplements.
Featured inside every package is a 4-week complete training program, developed by Dr. Victor Prisk, to help you get the most out of your training.GNC gives you the competitive advantage by providing premium supplementation and advanced sports training for unparalleled results. Pick up these items to maximize your training program:
GNC MEGA MEN Sport - This high-potency multivitamin includes vitamins and minerals to supplement key nutrients for the extreme athlete.
GNC Pro Performance AMP Amplified Muscle Meal - formulated to enhance power and support recovery with 50g of high-quality protein, vitamins and minerals and HMB.
GNC Pro Performance AMP Amplified Pre-Post Training System - primes your muscles for training and maximum performance with a pre-workout pak and post- workout recovery system.
GNC Pro Performance Rapid Drive BCAA 500 - provides 5g of micronized branched chain amino acids for maximum muscle fuel.