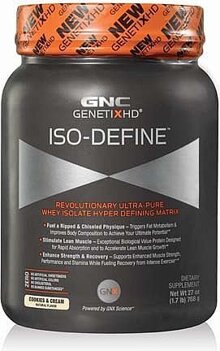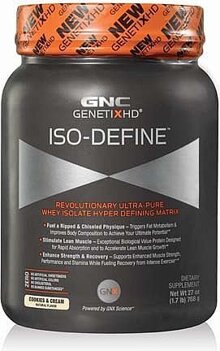 REVOLUTIONARY ULTRA-PURE WHEY ISOLATE HYPER DEFINING MATRIX
Fuel a Ripped & Chiseled Physique - Triggers Fat Metabolism & Improves Body Composition to Achieve Your Ultimate Potential*
Stimulate Lean Muscle - Exceptional Biological Value Protein Designed for Rapid Absorption and to Accelerate Lean Muscle Growth*
Enhance Strength & Recovery - Supports Enhanced Muscle Strength, Performance and Stamina While Fueling Recovery from Intense Exercise*
THE PURSUIT OF PHYSICAL PERFECTION
Iso-Define is a revolutionary addition to the cutting-edge system that is designed to set the standard for those in pursuit of physical perfection. Iso-Define is the first protein of its kind, featuring ultra-pure, high biological value 100% whey protein isolate infused with hyper defining matrix to support the ultimate physique transformation hybrid workout.* This breakthrough protein formulation is scientifically designed to help you as you strive to achieve a lean, chiseled physique and has ingredients clinically shown to fuel fat metabolism, improve body composition, accelerate lean muscle gains, increase muscle strength by 30%* and support a 100% improvement in exercise efficiency!*
In addition, Iso-Define sets the standards of purity and digestibility in a protein, combining an ultra-clean formula featuring ZERO Artificial Sweeteners, ZERO Artificial Colors, ZERO Cholesterol and ZERO Fillers with an advanced digestive support blend with galactooligosaccharides shown to improve digestive comfort and bloating.* Support your genetic potential with Iso-Define.
The key to GNX Science is its multi-pronged genomic approach to leveraging every last ounce of your true potential. It targets multiple metabolic pathways from every direction for unparalleled results.
* These statements have not been evaluated by the Food and Drug Administration. This product is not intended to diagnose, treat, cure, or prevent any disease.