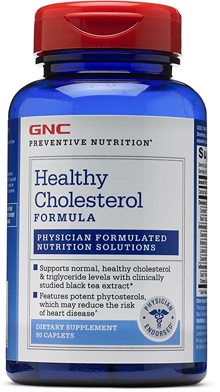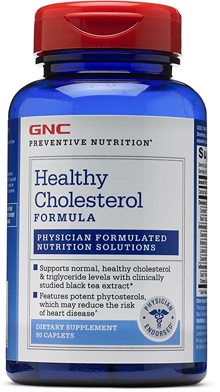 Supports normal, healthy cholesterol & triglyceride levels with clinically studied black tea extract.*
Features potent phytosterols, which may reduce the risk of heart disease.*
Provides CoQ-10 for powerful cardiovascular antioxidant support.*
Preventive Nutrition Healthy Cholesterol Formula contains clinically studied ingredients, additional key nutrients and a lifestyle program to help manage cholesterol levels and support heart health.* This multi-action formula supplies key nutrients that can help block the absorption of cholesterol, promote cellular health, and help support heart health.
Cholesterol Support
- Features a powerful blend of black tea extract that is clinically shown to support normal, healthy cholesterol and triglyceride levels and heart health.* Phytosterols work by blocking cholesterol absorption from foods and may reduce the risk of heart disease.*
Antioxidant Support
- Provides trimethylglycine and CoQ-10 to help protect cells from oxdative damage. * CoQ-10 is a powerful cardiovascular antioxidant and an essential component of the heart's energy producing system.*
Inflammatory Response Support
- Contains Acacia catechu and Scutellaria baicalensis, powerful antioxidant herbs that support a healthy response to inflammation.*