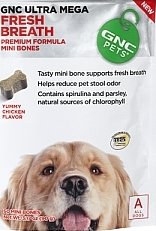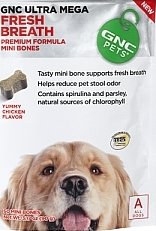 Premium Formula Mini Bones
Tasty mini bones supports fresh breath
Helps reduce pet stool odor
Contains spirulina and parsley, natural sources of chlorophyll
Recommended to support fresh breath.
Give bad breath the boot! GNC Pets Ultra Mega Fresh Breath Mini Bones contain a complex blend of ingredients to support fresh breath and help reduce pet stool odor. Spirulina and Parsley provide chlorophyll for fresh breath. Yucca Schidigera Extract has been shown to reduce the intensity of decal odor in dogs. Keep your dog's breath fresh and make those welcome home kisses more enjoyable!
GNC PET QUALITY COMMITMENT
For more than 75 years, GNC has been the leader in the development and manufacture of human dietary supplements. Now, GNC's commitment carries over to Pet Products! GNC Pet Products are produced at the same highest quality standards as our human supplements and are dated to ensure that you are purchasing the freshest products available for the pets you love.