Warning: This product is not currently available at any store.
Click the button above and PricePlow will email you when the first store has it in stock!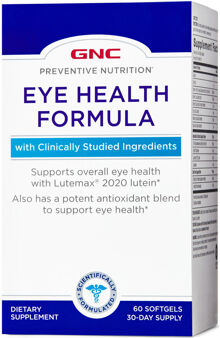 Supports eye health with Lutemax 2020 lutein proven to deliver 2x greater absorption.*
Supports healthy eye function with potent carotenoid antioxidant blend.*
Provides structural support for the eyes with DHA, an omega-3 fatty acid essential for proper vision.*
Preventive Nutrition Eye Health Formula contains clinically studied ingredients, additional keys nutrients and a lifestyle program to support eye health.* It also offers a specialized blend of antioxidants and other nutrients to protect the eyes from cellular damage and support healthy blood vessel dilation and circulation.
Essential Vitamin & Minerals
- Both vitamin A and beta-carotene are required by eyes for normal, healthy function.* Also contains vitamins C and E and essential minerals such as selenium, copper and zinc that play an integral role in maintaining normal ocular function.*
Antioxidant & Structural Support
- Provides powerful antioxidants, including lutein, zeaxanthin and glutathione that work to protect eyes from oxidative damage.* The superior form of lutein in this formula has been shown to have 268% greater bioavailability than regular lutein. Zeaxanthin, a carotenoid found in the retina, has also been shown to support eye health.* DHA is an essential omega-3 fatty acid found in the eye membranes and is an important structural component of the eye for healthy vision.*
Blood Flow Support
- Contains important nutrients to support healthy blood flow which is essential for eye healthy, including resVida Resveratrol, clinically shown to enhance blood vessel dilation**, and bilberry, an antioxidant that helps protect ocular cells and supports enhanced blood circulation and healthy eye function.*