Quick Links to Best Prices Price History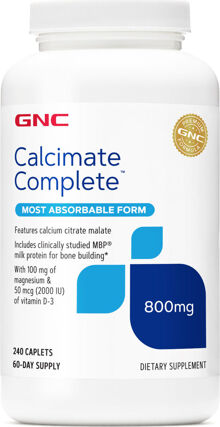 May reduce the risk of osteoporosis
Helps improve bone density*
Calcium Citrate Malate, one of the most absorbable forms of calcium
Vitamin D-3 for calcium absorption*
MBP&reg to support natural bone building*
Calcimate Complete™ is scientifically designed to enhance bone density, natural bone building and support calcium absorption.*
Calcium Citrate Malate (CCM) is one of the most absorbable and effective sources of calcium which helps support bone density.* Adequate calcium in a healthy diet throughout life may reduce the risk of osteoporosis. Studies in post-menopausal women over the age of 55 demonstrate CCM results in 70% less bone loss when compared to a diet without calcium supplementation and 40% less bone loss when compared to a diet with ordinary calcium supplementation.
MBP&reg is a functionally active protein complex isolate and purified from milk protein. Emerging research indicated that MBP&reg supports the body's natural ability to build and maintain bone mass by supporting the body's bone building cells.*
Vitamins D-3 and K-2 are essential vitamins required during the growth and development of bones to achieve peak bone density.* Vitamin K-2 (menaquinone-7) is good for the bone-building process.*
Enhanced with essential nutrients involved in the formation of the bone matrix such as magnesium, zinc, copper, manganese and boron.
* These statements have not been evaluated by the Food and Drug Administration. This product is not intended to diagnose, treat, cure, or prevent any disease.