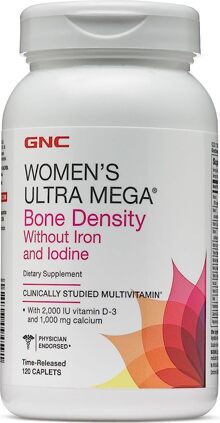 GNC Bone Density without iron and iodine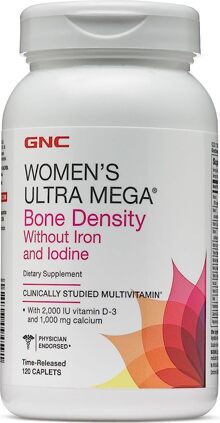 GNC Bone Density without iron and iodine
WOMEN'S ULTRA MEGA BONE DENSITY WITHOUT IRON AND IODINE
Clinically studied multivitamin
GNC Women's Ultra Mega Bone Density is a scientifically designed multiple vitamin and mineral formula that emphasizes key nutrients for bone health. This premium formula boasts similar attributes as traditional Women's Ultra Mega but is enhanced with 1,000 mg of calcium, 2,000 IU of vitamin D-3 and 40 mg of MBP, a protein complex derived from milk.
MBP – A functionally active protein complex isolated and purified from milk protein. Emerging research indicates that MBP supports the body's natural ability to build and maintain bone mass by supporting the body's bone building cells.*

Percent gain in bone density (left calcaneus) over six months. In a double-blind, placebo-controlled study, 33 adult females were supplemented with 40 mg/day MBP (n = 17) or placebo (n = 16) in a beverage for six months. Bone density was measured at baseline and after six months by Dual Energy X-Ray Absorptiometry (DEXA). The diets of both groups were monitored during this time and found to be no different.
Calcium and Magnesium – Important structural components of bone that help maintain healthy bone matrix.* Each daily serving provides 1,000 mg of calcium and 250 mg of magnesium. †Adequate calcium and vitamin D in a healthy diet throughout life may reduce the risk of osteoporosis.
Vitamin D-3 – Now includes 2,000 IU of vitamin D-3 which is essential for healthy bones and teeth.* Emerging research suggests that adequate daily vitamin D intake may play a role in supporting breast and colon health.*
Lutemax 2020 - In a randomized, double-blind, placebo-controlled study of 112 healthy volunteers, subjects taking the GNC vitamin and mineral blend in this product for six weeks experienced statistically significant improvements in markers of B vitamin and antioxidant status, as well as improvements in SF-36 Vitality and Mental Health scores compared to those taking a placebo.
GNC QUALITY COMMITMENT
GNC, the leader in the development and manufacture of dietary supplements, is committed to producing the highest quality products available. This commitment begins with quality designed supplement formulations. Every raw material that goes into a GNC supplement is guaranteed as to quality and potency. Each product is dated and then shipped immediately to our stores, so you can be sure you are purchasing the freshest supplements available. At GNC, we extend our quality commitment to you by offering our money-back guarantee.
GNC GUARANTEE
Use any GNC supplement for as little as 10 days. If you are not 100% completely satisfied, return the unused portion of the product with proof of purchase to your GNC store for a complete refund of your purchase price. No questions asked!