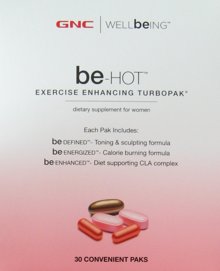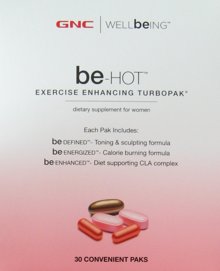 EXERCISE ENHANCING TURBOPAK®
dietary supplement for women
Each Pak Includes:
be-DEFINED™ - Toning & sculpting formula
be-ENERGIZED™ - Calorie burning formula
be-ENHANCED™ - Diet supporting CLA complex
Fuel your workout with a boost,
And, get the body you dream of…
Ever wish your workouts could be easier and achieve better results? GNC's experts have made it simple with
be
-HOT™. Each
be
-HOT™ Turbopak® is a breakthrough, customized fitness companion that provides everything you need to maximize the results of your hard work in one small, revolutionary pak. Want to burn more calories? Feel energized? Have a leaner, more toned physique?
be
-HOT™ can help you reach your goal.
be
-DEFINED™ toning & sculpting formula
This unique formula is specially designed to make your workout easier. It features an amino acid derivative, proven to enhance athletic performance; electrolytes, essential to replenish during any workout routine; and antioxidants to protect your body against free radicals that can damage healthy cells. This advanced nutritional formula can help as you strive to sculpt a leaner you.
be
-ENERGIZED™ calorie burning formula
This multi-tasking formula combines the benefits of a thermogenic along with premium antioxidants. It features GNC's own clinically-proven thermogenic blend to help boost your metabolism, helping you burn 3 times more calories before you work out and 12 times more after.
be
-ENERGIZED™ also provides four dual-purpose antioxidants: clinically-studied grape seed extract, proven to support healthy circulation; green tea extract, standardized to ensure 50% EGCG to boost your metabolism, and glutathione and alpha-Lipoic acid to recycle antioxidants in the body.
be-
ENHANCED™ diet supporting CLA complex
This diet-supporting complex features a blend of essential fatty acids to help you look good, feel good and be healthy. It combines CLA
With
be
-HOT™, it's easy for you to achieve your fitness goals! Carry your daily pak in your purse, gym bag or pocket! Bud don't forget to grab a multivitamin – the foundation to any health and wellness program!
be
-DEFINED,
be
- ENERGIZED,
be
-ENHANCED…
be
-HOT!