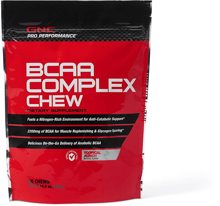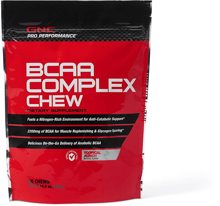 New Chew
Fuels a Nitrogen-Rich Environment for Anti-Catabolic Support
2200mg of BCAA for Muscle Replenishing & Glycogen Sparing
Delicious On-the-Go Delivery of Anabolic BCAA
It's long been accepted that Branched Chain Amino Acids (BCAA) – leucine, isoleucine and valine – are critically important for stimulating muscle protein synthesis, reducing protein breakdown and preserving muscle glycogen stores. Sometimes it's difficult to get the propery nutrients when you are on the go. Now with GNC's Pro Performance BCAA Complex Chew, you can get your essential BCAA whenever and where ever you are! Put them in your car, your gym bag or your briefcase and fulfill your BCAA necessities where you are.
Nitro-Factor - Maximize Muscle Building
The full muscle building potential of a GNC product is based on its total nitrogen content – so the more nitrogen a product has, the stronger it will perform. Nitrogen needs increase during training, and if nitrogen stores are low, your body pulls from muscle stores which can result in catabolism, poor performance and longer recovery. Pro Performance BCAA Complex Chew with a Nitro-Factor of 2 grams helps fuel performance and anabolism.