Quick Links to Best Prices Price History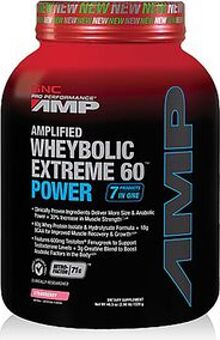 GNC Amplified Wheybolic Extreme 60 Power
Clinically Proven Ingredients Deliver More Size & Anabolic Power + 30% Increase in Muscle Strength*
60g Whey Protein Isolate & Hydrolysate Formula + 18g BCAA for Improved Muscle Recovery & Growth*
Features 600mg Testofen Fenugreek to Support Testosterone Levels + 3g Creatine Blend to Boost Anabolic Factors in the Body*
30% Increase in Muscle Strength
This unique protein blend includes an anabolic module of 20 grams of whey protein and 6.2 grams of leucine that was clinically tested in an 8-week study of athletes performing an intense resistance exercise training regimen. The athletes using this proprietary module of whey protein and leucine demonstrated an increased improvement in muscle strength and muscle size as compared to those performing the same exercise training regimen who did not consume the proprietary module. In a clinical study of participants using a unilateral lower limb resistance training protocol, even the untrained limb demonstrated increases in muscle size.*
What is Amplified Wheybolic Extreme 60 Power?
GNC's most advanced protein, Amplified Wheybolic Extreme 60, has evolved even further to help meet your specific training goals and develop more strength and power. This product is the only whey protein isolates to combine the whey and leucine clinically shown to the fuel increased strength and size with additional ingredients proven to amplify power and anabolism. This formula features a protein blend that has been validated in clinical studies to give you a 30% increase in strength, increased muscle size and a 100% improvement in exercise efficiency.* Our GNC scientists have AMPed up the protein with a Power Complex featuring an mTOR-stimulating BCAA blend for protein synthesis and added creatine to increase anabolic muscle growth*, making the product a combination of 7 products in 1!*
Amplified Wheybolic Extreme 60 Power - Break Plateaus, Build Power
This break through formula takes protein functionality and performance to new levels so you can break through plateaus and achieve a new level of muscular powder.
Power Complex
In addition to 10 grams of leucine this formula is stacked with 4 grams of both isoleucine and valine to stimulate mTOR activation and give you a powerful boost of all three BCAA to fuel your workouts and enhance your recovery. This product has upped the ante and added a 3 gram creatine blend to boost anabolic factors in the body, increase athletic performance and fuel strength + 600mg of Testofen Fenugreek to help support testosterone levels in the body.*
Highly Effective Whey-Leucine Base
The impressive 60 grams of protein is made entirely from two of the highest quality, fast-absorbing forms of whey protein, isolates and hydrolysates, including 10 grams of leucine to create an ideal environment for muscle protein synthesis. This potent blend delivers Arginine, which is involved in creatine synthesis, and over 10 grams of glutamine to provide anabolic effects.