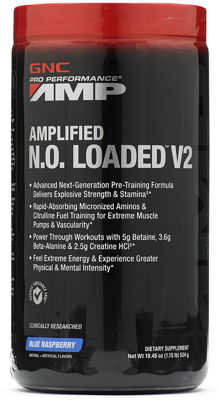 GNC Amplified N.O. Loaded V2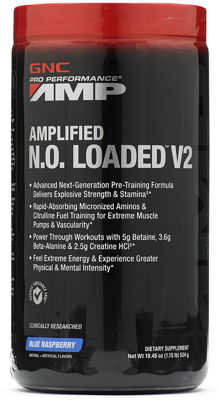 GNC Amplified N.O. Loaded V2
GNC Pro Performance AMP
Amplified N.O. Loaded V2
Dietary Supplement
Now with 2.5G Beta-Alanine & 5G Micronized Creatine
Advanced Next Generation Pre-Training Formula Delivers Explosive Strength & Stamina*
Rapid Absorbing Micronized Aminos & Citrulline Fuel Training for Extreme Muscle Pumps & Vascularity*
Power Through Workouts with 5g Betaine, 3.6g Beta-Alanine & 2.5g Creatine HCI*
Feel Extreme Energy & Experience Greater Physical & Mental Intensity*
Amplified N.O. Loaded V2- The Next Generation
Athletes all over have been searching for a pre-workout supplement that combines the much- needed energy and support for increased blood flow, along with added strength and power. There is no need to look any further. Pro Performance AMP Amplified N.O. Loaded V2 is GNC's next generation pre-workout, combining the most important pre-training supplements into one great-tasting powerful formula. Whether you are a hardcore bodybuilder, an avid athlete, a weekend warrior, or just need extra motivation in the gym, Amplified N.O. Loaded V2 will deliver the clinically studied ingredients needed to fuel your workouts. Now with a customized dosing chart that shows you the exact amount of ingredients in each scoop, you can customize dosing to fit your goals.
Power and Performance
The Power and Performance Matrix combines high dosages of clinically studied ingredients for maximum results, including a whopping dose of 5g Betaine for added power and performance. Plus, this formula features a 4g Creatine blend* with Micronized Creatine for rapid delivery and Creatine HCl for lean strength gains. This blend also includes clinically studied 3.6g Beta-Alanine* to help buffer muscle carnosine levels, a key marker of muscle fatigue.*
N.O. Accelerator Blend
Combining a potent Arginine blend, including Micronized Arginine for rapid delivery to support nitric oxide levels, plus resVida Resveratrol for increased blood vessel dilation to fuel muscle pumps needed to get the most out of your workouts. The N.O. Accelerator Blend also features ingredients such as L-Citrulline, Yohimbe and Rhodiola, plus Arginine AKG for extreme support. Be prepared to experiences intense workouts that deliver maximum results!*
Energizing Fatty Acid Metabolizer
This potent blend will deliver the extreme energy and ultra-focused mental intensity to keep you in the zone while your training. The Energizing Fatty Acid Metabolizer (EFAM) Blend also features the clinically studied ingredient helps transform fatty acids into energy and supports metabolism.*
Nitro-Factor – Maximize Muscle Building
The full muscle building potential of a GNC product is based on its total nitrogen content- so the more nitrogen a product has, the stronger it will perform. Nitrogen needs increase during training, and if nitrogen levels are low, your body pulls from muscle stores which can result in catabolism, poor performance and longer recovery. Pro Performance AMP Amplified N.O. Loaded V2 with a Nitro-Factor of 10 grams* helps fuel performance and anabolism.