Warning: This product is not currently available at any store.
Click the button above and PricePlow will email you when the first store has it in stock!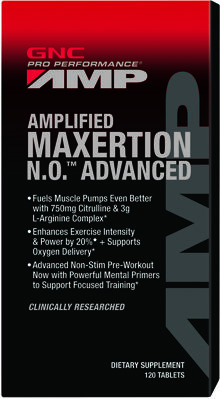 GNC Amplified Maxertion N.O.
GNC Pro Performance AMP, Advanced Muscle Performance
Nitric Oxide Enhancer Amplified Maxertion N.O.™
Dietary Supplement
Now With A Pump Enhancing Blood Vessel Dilator*
Clinically Researched
20% More Power Output at the Fatigue Barrier During Intense Training*
3g Full Potency Micronized Arginine to Amplify Nitric Oxide Hemodilation Effects*
Maximizes Muscle Performance Capacity*
Amplified Maxertion N.O.™ - What's the 'pump' All About?
We've taken the pump to a whole new level - new and improved Amplified Maxertion N.O.™, GNC's triple action N.O. pump formula! It features a clinically researched formula proven to intensify your workouts while giving you the extra power to help you push through the wall...going above and beyond your regular workout.* GNC's best N.O. amplifier just got even better with an added blood vessel dilator.
Amplified Maxertion N.O.™ Evolution
It's a fact that when Nitric Oxide is released in the body, blood vessels expand allowing more oxygen and nutrients to surge to each muscle cell. Many supplements tout that they can help you achieve better pumps to your muscles for longer, more efficient workouts. Why is Amplified Maxertion N.O.™ different? It all begins with innovative technology proven to AMPlify effects and three vital N.O. potentiating ingredients.
New and Improved Circulatory Pump Blend - Featuring clinically studied ResVida&reg resveratrol, shown to significantly enhance blood vessel dilation to help facilitate blood flow. This is important to help drive more oxygen and nutrient-rich blood through the body for more efficient muscle pumps! This blend also features MegaNatural&reg-BP™, a clinically studied grape seed extract, that acts as an endothelial modulator to support circulation.*
Micronized Arginine - This superior formula uses MicroSorb™ Amino Technology for enhanced absorption or arginine - a key precursor to Nitric Oxide. MicroSorb™ Amino Technology takes large arginine molecules and pulverizes them into smaller micronized particles. As a result, this potent N.O. activator is easier to absorb and more effective at enhancing your workout.*
PEG-Arginine System - To raise the base even higher, this formula also boasts a patent-pending PEG-Arginine system designed to further enhance the absorption of N.O. stimulating ingredients and contribute to the clinically proven effects.
It also activates Nitric Oxide synthase, which is the enzyme in the body that dilates blood vessels and ignites N.O. synthesis in the muscles.*
Who Should Take Amplified Maxertion N.O.™ ?
Amplified Maxertion N.O.™ is designed specifically for the athlete who is striving to achieve maximal exertion. If you need a high performance Nitric Oxide formula with an extra burst of power to get you through your competition, to run one more mile or bench one more set, then this is the product you need.
When Should I Take It?
Amplified Maxertion N.O.™ should be taken daily before exercise.
Better Exercise Performance!
A clinical study has shown that Amplified Maxertion N.O.™ improves power output while delaying muscle fatigue.* This micronized arginine formula:
Increases power output at the onset of fatigue by 20%*
Delays the onset of neuromuscular fatigue during exercise*
Increases physical performance*
GNC GUARANTEE
Use any GNC supplement for as little as 10 days. If you are not 100% completely satisfied, return the unused portion of the product with proof of purchase to your GNC store for a complete refund of your purchase price. No questions asked!
* These statements have not been evaluated by the Food and Drug Administration. This product is not intended to diagnose, treat, cure, or prevent any disease.