Warning: This product is not currently available at any store.
Click the button above and PricePlow will email you when the first store has it in stock!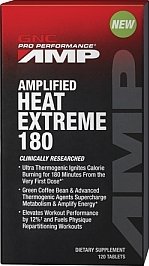 GNC Amplified Heat Extreme 180
Clinically Researched
Ultra Thermogenic Ignites Calorie Burning for 180 Minutes From the Very First Dose*
Green Coffee Bean & Advanced Thermogenic Agents Supercharge Metabolism & Amplify Energy*
Elevates Workout Performance by 12% and Fuels Physique Repartitioning Workouts*
What is Pro Performance ® AMP Amplified Heat Extreme 180?
Athletes and dieters strive to find new ways to burn more calories, increase metabolic rate and make calorie-burning workouts more effective. Amplified Heat Extreme 180 ignites calorie burning from 180 minutes off the very first dose.* This extreme thermogenic will fire up your metabolism, ignite calorie burn before, during and after exercise, and improve workout performance.* GNC Scientists formulated breakthrough thermogenic that contains clinically researched blends to deliver extreme energy and massive calorie burning.* This potent formula also supports increased blood vessel dilation and impacts key markers of fat metabolism.* Also included in this formula are emerging new ingredients such as mucuna, green coffee bean and red orange complex.
Pro Performance® AMP Amplified Heat Extreme 180 Evolution
The latest breakthrough in thermogenic formulation, is Pro Performance® AMP Amplified Heat Extreme 180 combines a unique blend of ingredients that provides the complete matrix to take you through the full metabolic cycle of athletic performance and training. This hardcore product delivers the fuel your body needs to power intense training and extreme calorie burning!*
Ultra Heat Matrix- This exclusive combination of clinically studied ingredients ignites extreme thermogenesis for 180 minutes.* This Ultra Heat Matrix is clinically shown to enhance calorie burning 619% pre-workout 373% post-workout.* Not only does the Ultra Heat Matrix provide inferno of calories burning, this formula boosts energy and impacts key markers of fat metabolism.*
Performance Enhancing Blend- Loaded with clinically studied ingredients, including antioxidants and herbs to fuel longer workouts and provide intense energy.* The Performance Enhancing Blend is tested and shown to improve workout performance by 12%.* It's also enhanced with potent antioxidants with potent antioxidants designed to combat exercise-induced oxidative stress and protect cells from damaging free radicals.
Metabolism Igniter Complex- The Metabolism Igniter Complex fuels energy metabolism and contains green coffee bean! This powerful complex increases blood vessel dilation for optimal nutrient delivery and maximizes nitric oxide production for extreme muscle pumps.*