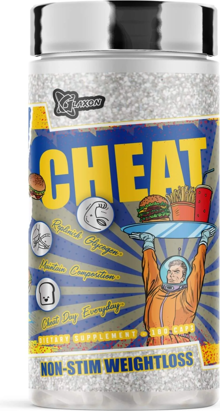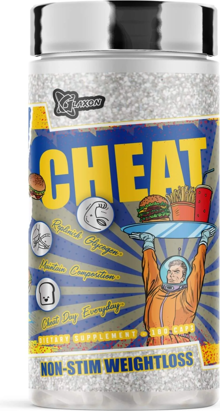 Glaxon Cheat Can:
Improve Blood Sugar Levels
Shuttle Carbohydrates into the Muscle
Aid in Weight Loss
Minimize Fat Storage
Enhance Exercise Performance
Support Brain Health and Performance
Maximize Carbohydrates While Minimizing Fat Storage
Who doesn't love carbs? Unfortunately, if you look down and see a little extra weight around your midsection hiding your abs, it could be due to consuming an excess amount of carbohydrates and having them stored as fat. The good news is that there's now a way to maximize those carbohydrates you love so much without turning them into body fat, and it's accomplished through the help of a glucose disposal agent called Glaxon Cheat.
Glaxon Cheat is the perfect non-stimulatory companion to your weight loss program as it helps increase insulin sensitivity, increase the activity of glucose transporters, and opens the floodgates of nutrient transit due to optimizing blood flow.
With Glaxon Cheat, you have the ability to make carbohydrates work for you instead of against you. Through the specific ingredients used in Cheat, this glucose disposal agent can shuttle the carbohydrates you consume into your muscles as glycogen rather than into fatty tissue, which not only provides you with the ability to fuel your workouts, but it's also more forgiving on your waistline and overall body fat.
While this product is not an excuse to eat horribly all day, every day, it does provide you the ability to have a cheat meal or high-carb meals without the worry of blowing your diet and gaining excessive weight.
Who Can Benefit from This Glucose Disposal Agent?
The amazing thing about Glaxon Cheat is that anyone can use it. While it would be ideal for those who are dieting, due to the precise formula found in the product, Cheat can be used as a glucose disposal agent by those who are bulking but want to keep their fat gain at a minimum while in a caloric surplus.
If you get all bent out of shape over the thought of having a meal containing carbs, or you're worried about consuming too many, Glaxon Cheat is the answer.
Ingredients in Cheat:
The Only Moral and Ethical Way to Cheat Your Way to Success!
Most people feel bad when they cheat, with Glaxon Cheat, you don't need to feel remorse (at least when it comes to your diet). Want an extra serving of pasta? Go for it? Carb-loading for a heavy leg day? Go for it!
This non-stimulant weight loss product helps turn the carbohydrates you consume into usable glycogen that gets shuttled into the muscle to be utilized during your workouts. So, whether you are planning your cheat meal (or day) or accidentally consumed more than you wanted, Glaxon Cheat has your back.
Now you can cheat your way to weight loss and muscle-building!
Here are some of the key ingredients that can help maximize your results and how they can benefit you.
DRcaps – Protects nutrients from stomach acid and allows the product to pass into the large intestine to help improve absorption and may reduce the risk of causing an upset stomach
Chromium (as Zychrome Chromium Dinicocysteinate) – This patent-pending form of chromium aids in normalizing blood glucose levels and helps maintain healthy insulin sensitivity
Berberine HCl – A glucose disposal agent that can help reduce blood glucose levels in the body, may support weight loss and weight management, has antioxidant and anti-inflammatory properties, and may lower cholesterol
Bitter Melon 4:1 Extract – May help regulate blood sugar, can lower cholesterol levels, and supports weight loss
Ceylon Cinnamon – A true and less common form of cinnamon found on the market due to its high cost, but it can help with lowering blood sugar and contains antioxidant and anti-inflammatory properties
Massulin – A patented form of maslinic acid that helps with weight loss, contains antioxidant and anti-inflammatory properties, can boost the immune system, and may boost bone strength
Pine Bark Extract (Std. for 95% Anthocyanidins) – Can improve blood flow, aids in managing blood sugar levels, may boost the immune system, contains antioxidant and anti-inflammatory properties, and supports brain health
Pomegranate Powder – Contains powerful antioxidant and anti-inflammatory properties to help minimize inflammation in the body (such as the joints), protect the body and cells from harmful fight free radicals, support exercise performance, as well as help improve memory and cognition
Banaba Leaf Extract (Std. for 20% Corosolic Acid) – A glucose disposal agent that can help manage blood sugar levels, is a powerful antioxidant, and contains antibacterial and antiviral properties
Black Pepper (as BioPerine) – A patented active compound that has antioxidant and anti-inflammatory properties which can improve brain function, improve blood sugar levels, promote a healthy digestive tract, and aid in the absorption of nutrients to maximize the potency of the ingredients and nutrients consumed
Suggested Use:
As a dietary supplement, take 2 capsules 3 times daily, 1 hour before meals. An alternate dosage would be 3 capsules 2 times daily, 1 hour before your most carbohydrate-dense meals.