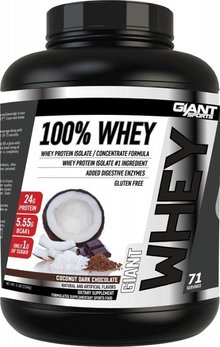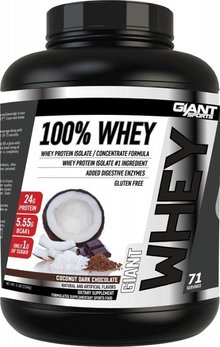 Giant Sports has been set the industry ablaze over the past few months when they released not one, but two DMHA-infused pre workouts in Giant Rush and Giant RIOT -- both of which grace the top tiers of our Best Pre Workout Supplement guide.
Now the company has set its sights on re-taking the protein segment of the market over with the release of 100% Whey -- a blended whey product!
Where Giant has always excelled with protein, however, is the flavoring. Delicious Protein, Delicious Protein Elite, and Delicious Casein easily live up to their names. Can they do the same for a pure whey protein product?
Highlights of Giant's 100% Whey:
Whey Protein Isolate / Concentrate Formula (Isolate #1 Ingredient)
Added Digestive Enzymes
Gluten Free
24 Grams Of Protein (5.55 Grams Of BCAA's & 1 Gram Of Sugar)
Giant's Award-Winning Taste
We've got the full breakdown ahead, but before we get to it, take a moment to check the best deal and sign up for PricePlow alerts up above on this page!
---
Our Giant Sports 100% Whey Review on YouTube
---
100% Whey Ingredients
As the name implies, 100% Whey is nothing other than whey protein for the protein portion of the blend. The rest of the ingredients are the usual array of stabilizers, thickeners, and sweeteners.
100% Giant Whey Protein Blend

As stated above, Giant's new protein powder is a blend consisting of Whey Protein Isolate (WPI) and Whey Protein Concentrate (WPC), respectively. Listing Isolate first is a huge win as it's indicative that it represents the mass majority of the protein.

The difference between isolate and concentrate lies in the level of refinement each form undergoes as well as the distribution of the protein, carbs and fats. WPI must be contain a minimum 90% protein, meaning there's little to no fats or carbs from lactose.[1] It's an ideal option for those who are lactose intolerant or those dealing with milk sensitivities.[2] Listing it first means it contributes the greatest percentage of the blend, always a good thing!

Next is WPC, which varies anywhere between 35-80% protein, with the rest consisting of a greater percentage of fats and carbs compared to the previous form of whey. Due to the higher lactose content, concentrate may give some GI distress to those who don't handle dairy all that well. Typically, we'd prefer to have the WPC grade called out so we know what quality we're getting, unfortunately we're not given that information so we're left to speculate on the possibilities.

The Rest

To complete the ingredient list, you'll see the typical backup "players" that provide sweetness, texture, and digestive aid including: cocoa powder, a gum blend (Cellulose, Xanthan, and Carrageenan), Salt Natural & Artificial Flavors, Sucralose, Ace-K, the digestive enzyme Lactase, and Soy Lecithin.

The added Lactase digestive enzyme helps aid digestion and absorption of the assorted vitamins, minerals, and amino acids contained in the protein powder. It also serves as additional "insurance" to ward off any potential digestive upset for those who have to deal with bloating when consuming high amounts of dairy.

Additionally, the added lactase enables lactose sensitive users to be able to use it, as lactase is the enzyme that breaks down lactose. Not everyone produces lactase, or enough of it, so the extra bit added is always helpful.
---
Giant Sports 100% Whey Macros
Each serving of Giant Sports 100% Whey weighs in between 31-33g and has the following approximate macros (small variances between the different flavors):
Calories: 120
Protein: 24g
Carbs: 3g (1g sugar)
Fats: 1.5g (1g saturated)
---
Giant Sports 100% Whey Flavors
Giant Sports is pulling out all of the stops with the launch of 100% Whey. Like their other powders, it will come in both 2lb and 5lb tubs and both sizes will be available in seven different flavors:
Double Chocolate Ice Cream
Vanilla Ice Cream
Caramelized Banana
Coconut Dark Chocolate
Cinnamon Crème Brulee
Espresso White Chocolate
Coconut Mango Passionfruit
Normally, protein powders launch in just chocolate and vanilla, and hope to release new flavors when things start to take off. Not the case here -- Giant Sports is diving all in with this huge variety! Clearly they're confident in what they have to offer.
---
Giant's first 100% Whey!
We noticed that this is the fifth protein powder made by Giant Sports, and is the first that is made entirely from whey protein - no milk protein or casein in this one!
---
Takeaway
Whey protein powders are nothing new to the market, as virtually every company out there has their own version. Where Giant Sports takes a huge step above the competition is in the flavoring department. 100% Whey offers some of the most tantalizing and intriguing sounding flavors we've encountered in proteins in quite some time!
We've got a few of these on the way to taste-test and stay tuned, b/c the crew will have a full, in-depth review in no time!
---