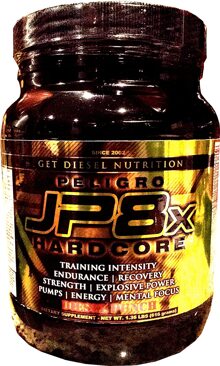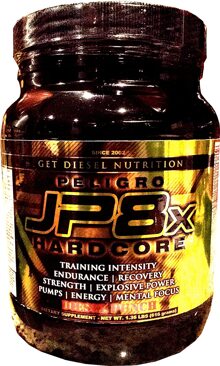 Product Information
Get Diesel JP8x Hardcore 40 serving
Stronger formula, much better taste, no clumping, even better results. No Competition!

JP8x Hardcore is the most hardcore, results driven pre-workout available period! I don't care how much caffeine per scoop others give you; the endurance, mental focus, motivation, training intensity and aggression while training on JP8x Hardcore cannot and has never been matched since its original introduction in 2009!

Pumps…Sick!
Endurance….Sick!
Strength Gains….Sick!
Mental Focus, Energy, Drive……Sick!
Motivation, Training Intensity……Sick!

J8x Hardcore is for those of you who want the hands down best results from a pre-workout/NO product/Creatine product. JP8x Harcore is for those of you on a plan to attain a goal which would be total gym dominance.

JP8x Hardcore is for those of you who are NOT buying pre-workout drink mixes because they come in "cool blue raspberry cooler" or because you want the best results you can get for US $29.95. This is for those of you asking "Screw the BS claims and the scientific write-ups, what works the best?"

In comes the return of JP8x Hardcore: "This is some hair on your chest, dialed-in, zoned out, get the ***** out my way, GET DIESEL OR DIE TRYIN' type stuff." None of that "we disclose the ingredients so it must work" formulas that look just like every other pre-workout, mega-dose caffeine per scoop BS. JP8x Hardcore IS NOT legal in Canada, Australia, or Europe. JP8x Hardcore isn't formulated to be (use JP8x if outside the US). JP8x Hardcore IS formulated to be the hardest hitting, serving for serving pre-workout product available. This is the product that will take you back to the years of 2005-2008 when GET DIESEL was known for having the hardest hitting pre-workout products available with Ready4War powder and DIESEL FUEL capsule. You will not be disappointed if you shop based on results. I don't know how many longtime customers who are power-lifters and those that are "serious" about training have said, "Go back to that era where your stuff was killing the competition." Well I listened and along with DIESEL TEST Hardcore and Pro-cycle, JP8x Hardcore is THAT type of product.

You will hear about JP8x Hardcore. It's up to you to decide if you're going to be the one doing the talking or the one listening, while still using one of those run-of-the-mill chemical tasting, ultra-concentrated copy-cat la-di-dah pre-workouts.

Why the Proprietary Blends? Listen…h**l yeah there's a proprietary blend. Although most companies use proprietary blends to mask under dosed amounts of ingredients, GET DIESEL has been in the supplement industry since 2002 producing pre-workout/thermogenic products for over 12 years with none duplicated. Do you know why? Proprietary Blends. It makes no smart business sense to list the amount of every ingredient in your effective product right there on the label so everyone else can just boot-leg it line by line. Why do you think so many pre-workouts look the same now-a-days? They are all just semi-carbon copies of their competitor's products. You got: Creatine HCL, Agmatine, Beta-Alanine, ..… same product.

Listen…long answer short: Pringles, Ruffles and Miracle Whip have one thing in common…proprietary blends. It would makes no good business sense if Ruffles or Pringles were to list the exact recipe to make their chips right there on the bag. End of discussion.

There is JP8x Hardcore and then there are the other products. Period! No need to sugar-coat it.1

Directions: Mix 1 to 2 scoops (with 12oz water/juice per scoop) 25-60 minutes pre workout. Drink mixture over 3 to 10 minutes. NOTE: Start with 1 to 1 1/4 scoops to assess tolerance. Most users will not need to exceed 1 to 1.5 scoopsldose for great results. DO NOT GO "ALL IN" and start with 2 scoops off the top (the first time using this product). Can stack with Diesel Test Procycle taking DTP 1 hour preworkout. To stack with NOS ETHER: use JP8x Hardcore pre-workout and NOS ETHER post workout & non-training days as directed. Cardio only day is a non-workout day just FYI. Can also be stacked by mixing 3/4 to 1.5 scoops JP8x Hardcore with 1/2 to 1.5 scoops NOS ETHER pre-workout reducing stimulant effect BUT keeping strength/power/endurance effects. Some may want to use a mixture of JP8x and JP8x Hardcore (such as one scoop of each) to get the full JP8x effects, without taking more than 1.5 scoops of JP8x Hardcore (most can't handle full recommended dose of JP8x Hardcore).

Notes: Do not mix with protein drinks. For best results use pre-workout only, no more than 5 or 6 days per week. Do not take within 3 to 5 hours of consuming any caffeine containing products. If not on a semi-empty stomach, wait 2 to 4 hours after consuming a big meal to take this product. Users may experience increased erections and hardness 4 to 24 hours post workout while consuming this product.

Warning: Consult a health care provider before using this product. Do on tuse if you are pregnant, lactating or nursing, if you are taking medication for high blood pressure, nervousness, anxiety, depression, seizure disorder or stroke. Discontinue use and seek/call a licensed health care professional immediately if chest pain, shortness of breath, nausea, dizziness, severe headache, and/or rapid heart beat occurs. Do not use this product if you are using a monoamine oxidase inhibitor (MAOI), Selective Serotonin Reuptake Inhibitors (SSRIs), or any or over the counter containing ephedrine alkaloids, or phenylpropanolamine. Individuals who consume caffeine containing drinks/products with this supplement may experience adverse health effects. Discontinue use 36 hours prior to surgery. Do not consume this product before exercising/practicing outside. Keep out of the reach of children. For adults 18 years and older.

Other Ingredients: Maltodextrin, Natural and Artificial Fruit Punch Flavors, Silicon Dioxide, Sucralose, Natural Vanilla Flavor, Soy Lecithin, FD&C Red #40 (Dye).

Note: Ingredients and Nutrition Data are for the Diesel Punch flavor. Other flavors may vary.
These statements have not been evaluated by the Food and Drug Administration. This product is not intended to diagnose, treat, cure, or prevent any disease.
1: Individual results may vary. Reviews are based on the experiences of a few people and you may not have similar results.