Quick Links to Our Prices Price History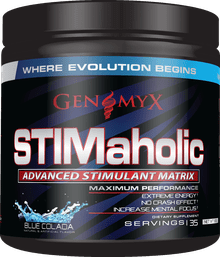 strength
STIMaholic contains a perfect amount of natural stimulants to take your workout to the next level.*
focus
STIMaholic lends the most mind altering focus on the planet.*
flavor
STIMaholic is available in Blue Colada and Red Apple
How should people take STIMaholic?
Begin by taking 1/2 scoop of STIMaholic 30 minutes before any sort of athletic activity. After tolerance has been assessed, take 1 scoop before activity. STIMaholic contains caffeine; it should not be taken within 4 hours of bedtime to avoid sleeplessness. Never take more than 1 scoop within a 24-hour period.
Should people take STIMaholic with food?
STIMaholic may be taken with food or on an empty stomach. Stim sensitive users prefer to begin by taking STIMaholic with food to avoid the possibility of an upset stomach.
Why is STIMaholic different than other pre-workout products?
STIMaholic is unique and powerful pre-workout designed to support Energy and Tunnel Vision Focus in the gym.* STIMaholic can be stacked with our Endurate and Saturate for Maximum results.