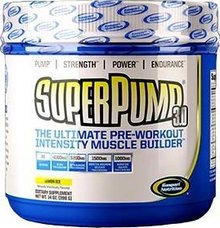 Gaspari Nutrition SuperPump 3.0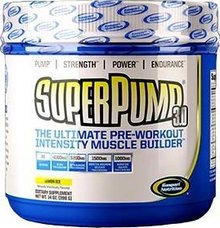 Gaspari Nutrition SuperPump 3.0
Gaspari's SuperPump line has long been one of the most popular pre-workout supplements. If you've been involved with bodybuilding for any length of time, you've likely tried it. Gaspari has a very strong following and the previous incarnations of SuperPump, specifically, are still widely used.
SuperPump 3.0 ingredients
So why mess with success? Two words: Arginine silicate. The new SuperPump 3.0 has the usual little tweaks that optimize the formula a bit here and there, but the major addition is the newly patented compound that promises to enhance the pump-boosting qualities of arginine.
What is arginine silicate
Arginine silicate was just approved as a dietary ingredient by the FDA in May 2013. Nutrition 21 holds the patent and Gaspari's new SuperPump is the first and only supplement to include it.
Arginine silicate has been studied since 1998 for a wide range of medical conditions, and it's shown a lot of promise in animal tests since then — particularly for heart disease and bone mineralization. The primary action for these benefits is a significant increase in blood flow and nitric oxide donation to body tissue, which is what attracted interest for its use as an ingredient in workout supplements.[1]
The catch is that while favorable human studies for medical conditions have been conducted on arginine silicate, there haven't yet been any for its use, specifically, as a nitric oxide enhancer.
So what has us ranting and raving about it this early? Well, these results aren't exactly scientific, but it hasn't gone entirely untested in humans. During our in-house beta test of the sample Gaspari sent us, our own CJ Woodruff added a full inch to his arms after a high-volume arm workout!
---
Other ingredients
Aside from our impressive beta results, the thing we like most about SuperPump 3.0 is an open-label policy that lets you see the exact amounts of each ingredient.
SuperPump 3.0 has three major components: Nitro-Strength Complex for muscle tissue support, Amino-Fuel Complex for a dose of BCAAs, and Neuro-Energy Matrix for motivation and focus.
Nitro-Strength Complex
The Nitro-Strength Complex mostly consists of Creapure, the most trusted source of creatine monohydrate. Aside from the aforementioned arginine silicate, the only other ingredient is a little agmatine sulfate, intended for extra growth-hormone production and nitric-oxide modulation.
Amino-Fuel Complex
The Amino-Fuel Complex is a pretty standard 2:1:1 ratio of BCAAs with an emphasis on leucine, and Carnosyn beta-alanine for muscle pH balance.
Neuro-Energy Matrix
The Neuro-Energy Matrix takes it relatively easy on the caffeine - 200mg per serving, or just a shade more than the content of two cups of coffee. No synephrine to be found here, so no worries about overdosing or mega-jitters.
There are two important things to note about the dosage of caffeine:
The strength of the Neuro-Energy Matrix is completely balanced with the strength of the Nitro-Strength Complex. This means that you won't be over-stimmed trying to find a bigger pump, since 1 to 1.5 scoops is honestly enough for both.
200mg is a solid serving size, which means that unlike several other pre-workouts, 36 servings will indeed translate to 30 to 36 workouts. Most people won't need 2 full scoops, unless you crave a crazy amount of caffeine (which isn't necessary for a good workout).
And more...
The other ingredients of interest here are L-tyrosine, choline, and piper nigrum extract (Bioperene). Bioperene is a black pepper extract intended to increase nutrient bioavailability.[2] It hasn't been seen that often in pre-workout supplements.
---
Final words
Other than that, all you're looking at are some B vitamins (B6, B12, and niacin) and vitamin C. The seeming megadose of B12 — 35mcg per serving, which is 488% over the recommended daily value — might raise an alarm, but B12 does not actually have a known toxic dosage and intense workouts will deplete a lot of it.
---
References
Nutrition 21; "Nitrosigine"
Sabinsa Corporation; "Bioperine"