Quick Links to Best Prices Price History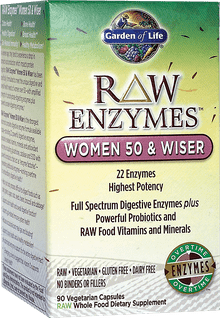 Garden of Life Raw Enzymes - Women 50 & Wiser
Raw Enzymes - Women 50 & Wiser Description from Garden Of Life
A full spectrum, whole food probiotic formula specifically designed to meet the unique needs of women over 50. RAW Probiotics Women 50 & Wiser offers 33 "original" probiotics specifically formulated for women to support immune function and maintain healthy cholesterol levels already in the normal range. RAW Probiotics Women 50 & Wiser also delivers probiotic-created vitamins, minerals and prebiotics as well as dairy-digesting enzymes to help break down lactose and casein.

RAW Probiotics Women 50 & Wiser goes Beyond Probiotics offering a broad range of benefits specifically targeted for women over 50:

-Supports colon health, bowel regularity and overall digestive function
-Supports gut-related immune system function and overall immune system health
-Supports healthy microbial balance by promoting healthy bacteria in the gut
-Supports healthy nutrient absorption and assimilation
-Relieves occasional gas and constipation
-Supports healthy thyroid function
-Helps maintain healthy cholesterol levels that are already in the normal range
-Emerging science suggests vitamin D supports breast health
Supplement Facts
Serving Size: 1 capsule
Servings Per Container: 90
Ingredient
Amount
% Daily Value**
Vitamin A
67IU
2
Vitamin D
167IU
42
Vitamin K (as Menaquinone 7 MK-7)
2mcg
3
Thiamin (Vitamin B-1)
0.08mg
6
Riboflavin (Vitamin B-2)
0.03mg
2
Niacin (as Niacinamide)
0.33mg
2
Vitamin B6
0.07mg
3
Folic Acid
17mcg
4
Vitamin B12
3mcg
56
Biotin
6mcg
2
Pantothenic Acid
0.17mg
2
Zinc
0.33mg
2
RAW Enzyme Blend
575mg
Protein-Digesting Enzymes
-Bromelain (333,333 PU)
-Papain (333,333 PU)
-Peptidase (3,600 HUT)
-Protease (high pH) (3,030 HUT) (Dairy Digesting)
-Protease (low pH) (25 SAPU) (Dairy Digesting)
-Protease (mid pH) (110,000 HUT) (Dairy Digesting)
Protease (neutral pH) (3,200 PC) (Dairy Digesting)
Carbohydrate-Digesting Enzymes
-alpha-Galactosidase (634 GaIU)
-Amylase (29,849 DU)
-beta-Glucanase (46 BGU)
-Cellulase (4,080 CU)
-Glucoamylase (67 AGU)
-Hemicellulase (1,248 HCU)
-Invertase (1,277 SU)
-Lactase (1,890 ALU) (Dairy Digesting)
-Maltase (267 DP)
-Pectinase (65P GU)
-Phytase (11 FTU)
-Xylanase (840 XU)
Fat-Digesting Enzymes
-Lipase (4,410 FIP)
Enzyme-Generating Probiotic Blend
31mg
-Bacillus coagulans, Saccharomyces boulardii 500,000,000 CFU
-Nattokinase 67 FU
-Superoxide Dismutase 5 SOD Units
Mineral Enzyme Activators
1mg
-Red Algae
** Percent Daily Value is based on a 2000 calorie diet. Your daily values may be higher or lower depending on your calorie needs.
† Daily Value not established.

Ingredients:
Vegetable Cellulose, Brewer's yeast (Saccharomyces cerevisiae), Lactobacillus bulgaricus.

Raw, Vegetarian, Gluten Free, Dairy Free, No Binders, No fillers.
Manufacturer's Directions
Adults take 1 capsule 3 times per day with meals. You may gradually increase up to 9 capsules per day. Contents may be mixed in your favorite juice or water.
Manufacturer's Disclaimer
As with any dietary supplement, consult your healthcare practitioner before using this product, especially if you are being treated for ulcers, are pregnant, nursing, anticipate surgery, take medication (particularly blood thinners) on a regular basis or are otherwise under medical supervision.