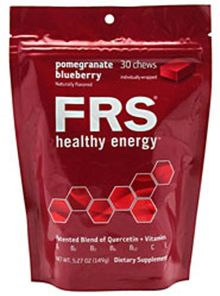 FRS FRS Healthy Slim Chews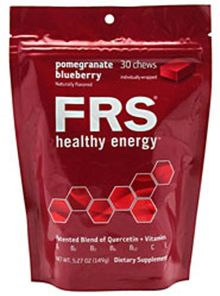 FRS FRS Healthy Slim Chews
Product Description
FRS soft chews take you up a level and keep you there. FRS soft chews contain quercetin a natural, powerful antioxidant found in blueberries, red onions, apples, and cocoa. Quercetin helps extend your body natural adrenaline as well as neutralizes the oxidants in you body that cause fatigue. Joining quercetin to keep your energy on the level are key vitamins and potent antioxidants from green tea leaves. Inside each serving is a daily allowance of enhanced mental focus, increased performance and the energy to keep you going. So rise up, stay up, and enjoy you day. A two chew serving of FRS supplies the same amount of flavonoid antioxidants as, 23 servings of blueberries of 6 servings of red onions or 7 servings of raspberries. Source flavonoid comparison based on mg of total flavonoids. Composition varies among products compared. Flavonoid content of fruits and vegetables from USDA. Flavonoid database using a half of a cup.
Directions
Recommended Intake, eat 2 chews in the morning and 2 in the afternoon of whenever you need extra energy or a pre workout boost. Ideal for outdoor sports, traveling or on the go activities.
Nutrition Facts †

Serving Size 2 chews
Servings Per Container 30

Amount Per Serving

 Serving 

% DV

Calories

40

  -  

Total Carbohydrate

8 g

3%

Sugars

5 g

  -  

Vitamin A

750 IU

15%

Vitamin C

120 mg

200%

Vitamin E

60 IU

200%

Vitamin B12

6 mg

100%

Riboflavin

2 mg

100%

Thiamin

2 mg

100%

Quercetin

250 mg

  -  

Catechins

20 mg

  -  

Niacin

20 mg

100%

Vitamin B6

2 mg

100%

*percent Daily Values are based on a 2,000 calorie diet.

Ingredients: Sugar, corn syrup, soy lecithin, palm oil, Quercetin, camauba wax, ascorbic acid, corn starch, glycerin, dl-alpha tocopherl acetate, citric acid, carrageenean, green tea leaf extract, mono and diglycerides, caffeine sucralose, calcium silicate, vitamin a palmitrate hydrocholoride, thiamin hydrochloride, riboflavin, cyanobalamin.

*These statements have not been evaluated by the Food and Drug Administration. This product is not intended to diagnose, treat, cure or prevent any disease.

†Nutritions Facts are a simulation of the product "Nutrition Label". For the actual Nutrition Label please refer to the product packaging.