Quick Links to Best Prices Price History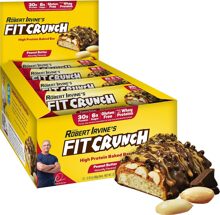 30g of Protein, only 6g of Sugar
Whey Protein Isolate
No High Fructose Corn Syrup
No Hydrogenated Oils
Great Taste, Soft Texture
Imagine taking your favorite caramel peanut candy bar and adding Whey Protein Isolate. The FortiFX Caramel Peanut bar is where a candy bar meets nutrition. A thick layer of caramel topped with fresh peanuts sits on a cookie core that will make you never want to go back to the unhealthy version of the caramel peanut bar again!
Did you know that Chocolate is truly the food of the gods? A tree from the species Theobroma (translated food of the gods) produces cacao beans, which is used to make chocolate. The FortiFX Chocolate Deluxe combines Whey Protein Isolate with the food of the gods in the forms of a chocolate cookie, chocolate cream, and chocolate chips to help give you your god-like or goddess-like physique!
Peanut butter cups are one of the most popular types of candy in the world! FortiFX Peanut Butter Cup takes this popular flavor to the next level by using a freshly baked peanut butter cookie center. It then adds a peanut butter cream layer, chocolate chips and of course Whey Protein Isolate to give you a healthy experience of a lifetime!