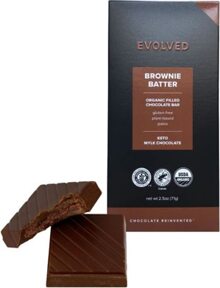 Fortified Nutrition Evolved Bar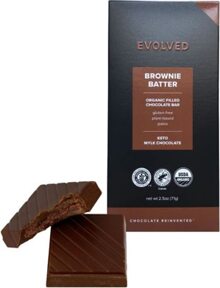 Fortified Nutrition Evolved Bar
Evolved - Filled Dark Chocolate Bar Almond Butter - 2.5 oz. (71 g)
You no longer have to dip your chocolate bar into a jar of almond butter to get the creamy, sweet and salty taste you desire. With 12 grams of healthy fat and 3 grams of protein per serving, this lightly sweetened dark chocolate bar is the perfect solution to your chocolate needs. Each square is made with their Rainforest Alliance Certified cacao and free of any soy, gluten, or dairy, making it both paleo and vegan friendly. So go ahead and put the jar away.
All Evolved Products Are:
Gluten Free
Dairy Free
Soy Free
Refined Sugar Free
Paleo & Keto
Vegan
It's Food, Not Candy
All of the Evolved products are certified organic, dairy free, gluten free, paleo, and vegan. No additives. Nothing unnatural. They like simplicity: that's why their products don't contain anything unnecessary.
Evolved Frequently Asked Questions
Are Evolved products vegan/vegetarian?
All products are vegan and contain no animal products.
Are Evolved ingredients organic?
All of their products are made with organic ingredients with the exception of their Madagascar Ground Vanilla.
Are Evolved products paleo/primal?
All of their chocolate fits within the Paleo/Primal lifestyle. Evolved proudly adheres to the principles of evolutionary nutrition, using natural, organic, and nutrient-dense ingredients.
Are Evolved products gluten free, dairy free, and soy free?
Yes, their chocolates are made with gluten-free, dairy-free, and soy-free ingredients on equipment that is GF, DF, and SF.
What is the shelf life of Evolved products?
Primal chocolate if best if eaten within one year. They recommend storing in a cool, dry place.
Coconut butter cups are best if eaten within six months. They recommend storing in a cool, dry place.
All of their flavors may be frozen to extend shelf life.
Chocolate has an excellent shelf life, but keep in mind that they use no preservatives and the environmental conditions where you store the chocolate has a direct effect on freshness. Dry, cool and out of direct sunlight is always best.
What does Evolved use to sweeten your chocolate?
They sweeten their chocolate with organic coconut sugar that is sustainable and does not contribute to deforestation.
About Evolved
Evolved has a guiding principle that influences every decision they make - Chocolate: It's Food, Not Candy. When chocolate is done right, it's a delicious, antioxidant-rich superfood - a far cry from the commoditized, sugar-filled milk chocolate candies that line supermarket shelves. It is this principle that also drives their simple mission, which is to be the go-to chocolate for health conscious consumers. They know what it's like to have nothing suitable on the market, and they work hard to solve that problem every day.