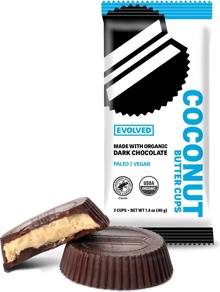 Fortified Nutrition Coconut Butter Cups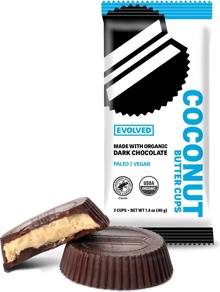 Fortified Nutrition Coconut Butter Cups
Evolved - Coconut Butter Cups Dark Chocolate Caramel - 1.4 oz. (40 g)
Evolved Coconut Butter Dark Chocolate Caramel combine the cleanest caramel with their famous Coconut Butter Cups to create a truly magical chocolate experience. With only five simple ingredients you'll be left wondering how so much delicious taste could be packed into one cup! This is one of their favorite products, they hope you enjoy it as much as they do.
Evolved Coconut Butter Cups Dark Chocolate Caramel Features:
Certified USDA Organic
Soy, Dairy & Gluten Free
Refined Sugar Free
Paleo & Keto Friendly
Vegan & Vegetarian
Evolved Frequently Asked Questions
Are Evolved products vegan/vegetarian?
All products are vegan and contain no animal products.
Are Evolved ingredients organic?
All of their products are made with organic ingredients with the exception of their Madagascar Ground Vanilla.
Are Evolved products paleo/primal?
All of their chocolate fits within the Paleo/Primal lifestyle. Evolved proudly adheres to the principles of evolutionary nutrition, using natural, organic, and nutrient-dense ingredients.
Are Evolved products gluten free, dairy free, and soy free?
Yes, their chocolates are made with gluten-free, dairy-free, and soy-free ingredients on equipment that is GF, DF, and SF.
What is the shelf life of Evolved products?
Primal chocolate if best if eaten within one year. They recommend storing in a cool, dry place.
Coconut butter cups are best if eaten within six months. They recommend storing in a cool, dry place.
All of their flavors may be frozen to extend shelf life.
Chocolate has an excellent shelf life, but keep in mind that they use no preservatives and the environmental conditions where you store the chocolate has a direct effect on freshness. Dry, cool and out of direct sunlight is always best.
What does Evolved use to sweeten your chocolate?
They sweeten their chocolate with organic coconut sugar that is sustainable and does not contribute to deforestation.