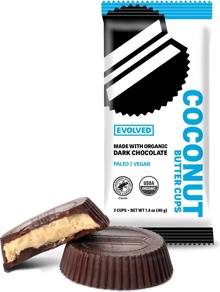 Fortified Nutrition Coconut Butter Cups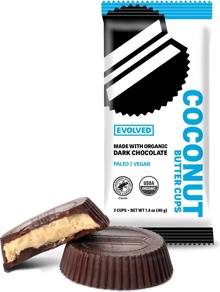 Fortified Nutrition Coconut Butter Cups
Evolved - Coconut Butter Cups Dark Chocolate - 1.4 oz. (40 g)
Evolved Coconut Butter CupsEvolved (formerly known as Eating Evolved) presents the world's first Coconut Cup and it's pure, primal decadence. Lightly sweetened and creamy organic coconut is drenched with heavenly organic 72% dark chocolate, creating the perfect low-carb treat that's loaded with healthy fats and delightful flavor. Evolved Classic Coconut Butter Cups covered in Dark Chocolate contain no additives and nothing unnatural. It is USDA certified organic, free of dairy and gluten, vegan and paleo – the ideal treat for indulging while on a paleo, vegan, keto, or low-carb eating plan.
Evolved
Evolved started out as "Eating Evolved" and through time they decided to simplify even more by changing their name to Evolved. They found that when their brand name was spoken, people often misheard the word "Eating". Evolved made a video about the story of their brand name change. Check it out! And, whether you're an Eating Evolved fan or an Evolved fan, they still make the same delicious, healthy, simple-ingredient products you love – keto cups, coconut cups, roasted coconut butter, chocolate bars, trail mixes, and more decadent treats.
Coconut Butter Cups
Evolved creates food, not candy. All the products they make, such as these Coconut Butter Cups, are USDA certified organic, dairy free, gluten free, paleo, vegan, and guilt-free. They utilize natural ingredients and no additives or unnatural, artificial ingredients. And, Evolved won't ever sacrifice flavor for simplicity either. Evolved Classic Dark Chocolate Coconut Butter Cups showcase the delicious yet nutritious flavors of organic coconut, organic cacao, organic coconut sugar, and organic cacao butter with Himalayan sea salt and organic vanilla extract.
Where Can You Buy Evolved?
Eating Evolved products are conveniently found on LuckyVitamin.com where you can find thousands of other healthy products that support your clean routine and eating plans like vegan, vegetarian, paleo, keto, low-carb, gluten free, and others. LuckyVitamin has its roots in a three-generation legacy of health and wellness. Through the generations, the Wolf family has been involved in running their own pharmacy, health and wellness store, wellness center, and now LuckyVitamin which is dedicated to inspiring and supporting your health and wellness journey. Shop Eating Evolved 24 hours a day 7 days a week and enjoy regular discounts, promotions, great shipping, and a happiness guarantee, too!
Keto Desserts You Can Buy
Evolved coconut cups, keto cups, chocolate bars, trail mix and other products are pre-made desserts you can buy so you always have something tasty on-hand. Just because you eat a clean and healthy diet or follow an eating plan such as the ketogenic diet, a low-carb high-fat diet, or you're vegan doesn't mean you shouldn't indulge your taste buds or sweet tooth. While the Classic Coconut Cups covered in 72% Dark Chocolate aren't marketed as being keto, each cup delivers 8 grams of saturated fat from coconut butter and only contains 8 grams of carbs with 3 grams of dietary fiber. If you're deducting fiber from carbs for a total net carb, that brings you to 5 grams of carbohydrates per Evolved Classic Coconut Cup. Therefore, when you're craving a dessert, why not be prepared with something like this conveniently at your reach so you don't wind up grabbing something less healthful.