Quick Links to Best Prices Price History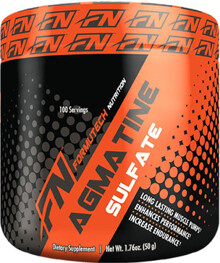 Formutech Nutrition Agmatine Sulfate
Long Lasting
Muscle Pumps*
Promotes Muscle
Regeneration*
Improves Training
Performance*
Promotes Increase
in Fat Loss*
"Agmatine Sulfate gives me amazing pumps and mixes well with other supplements*"
Agmatine, a by-product of the amino acid arginine, has been used for some time in nutritional supplements to increase muscle mass. It is a safe, yet effective supplement to help improve your body composition, health and quality of life. Agmatine Sulfate, by Formutech Nutrition, is 99% pure Agmatine Sulfate supports all these great benefits:
Possible Benefits
Increases nitric oxide production. Supporting long lasting muscle pumps.*
Prolongs the onset of muscle fatigue.*
Supports lengthened exercise time.*
Enhances cell growth and homeostasis and is suggested to increase cell count per unit of surface area by 10-17%.*
Suggested to support muscle strength.*
Mental focus and overall mental well-being.*
Supplementing with Formutech Nutrition's Agmatine Sulfate Promotes fullness in your muscles, vascularity and increased muscle size!* Individuals have also experienced improved athletic performance and an increase in fat loss.* At 99% pure, Formutech Nutrition's, Agmatine Sulfate, is as good as it gets*.