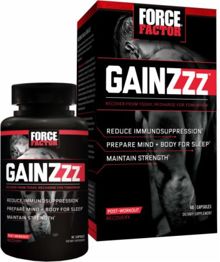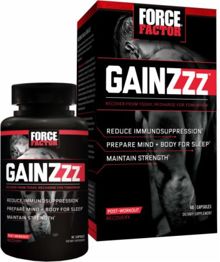 POST-WORKOUT
Recovery & Sleep
-

Support a healthy Immune System*

-

Prepare Mind & Body for Sleep*

-

Maintain Strength*
Wake up to More Muscle
If you're having difficulty building the strength and muscle you want, or if you've hit a plateau, you may be undervaluing one important part of your training routine — sleep!
In fact, a good night's sleep may be the most powerful muscle-building force in nature. It induces regeneration and repair, as cells replace themselves with bigger, stronger replicas. When you're not sleeping long enough or deeply enough, you're missing out on the natural anabolic window that activates explosive growth, depriving muscles of prime HGH and testosterone production.
GainZzz is the new, smart formula that helps you harness the full anabolic power of a solid night's sleep. Developed by the Harvard- and MIT-trained scientists at Force Factor, GainZzz is specifically engineered to help you get to sleep quickly and stay asleep during the critical window when the production of natural anabolic hormones is at its highest, and the body's muscle-building cycle is at its peak. With GainZzz, you're helping to rebuild muscle throughout the night and limit catabolic breakdown, so you can finally get every inch of size and ounce of strength from your workouts.*
Discover the science
GainZzz is precisely formulated to help you recover physically and mentally from intense workouts that are tough on your mind and body. The secret is the unique combination of three proprietary blends:
Body Recuperation Complex:
GainZzz incorporates Wellmune to minimize post-exercise immunosuppression and help maintain your overall health, so you're ready to hit the gym again tomorrow.* Additional antioxidants from CherryPURE and AuroraBlue lighten the oxidative burden, shorten recovery time, and reduce strength loss between workouts.* And because free radical buildup also affects mental performance, the Body Recuperation Complex helps promote emotional wellbeing to combat the mental fatigue that can cause your muscles to shut down well before they've reached their physical limits.*
Mind Relaxation Matrix:
GainZzz helps you reduce stress, tension, and anxiety by promoting GABA (Gamma-Aminobutyric Acid) uptake, which increases alpha brain waves so you feel relaxed and focused.
Sleep Rejuvenation Blend:
GainZzz includes sleep-inducing compounds to help reset and regulate your natural sleep-wake cycle. That means you're "in the zone" during those important peak hours when muscle is being rebuilt.