Warning: This product is not currently available at any store.
Click the button above and PricePlow will email you when the first store has it in stock!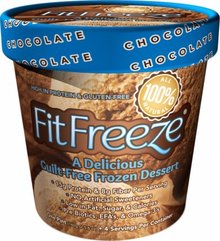 FitFreeze
is the Perfect Solution!
Fat-Burning FitFreeze Helps You...
Feel full all day long!
Turn your body into a 24/7 fat-burning machine!
Enjoy a sweet treat any time you want one, without regret!
Drop up to 33 pounds in just 12 weeks, the easy way!
Enjoy a slimmer you!
It's not only low in fat, sugar, and calories, it's totally free of unfermented soy, and artificial sweeteners!
But FitFreeze is way more than just a "healthier" substitute for regular ice cream and all the other weight loss snacks and desserts that are loaded with artificial, dangerous junk. FitFreeze is an advanced, delicious ice cream that's loaded with fat-burning power!
The FitFreeze secret formula and delicious flavors have been rigorously tested and refined over 9 years to ensure maximum (natural) sweetness and taste with minimum fat, sugar, and calories. That's right; I've dedicated almost a decade of my life to creating a delicious, guilt-free ice cream that's actually good for you. But it's way more than just healthy...
Our goal was to create an ice cream that was so delicious, it would shock you that it's also packed with nutrients your body craves (and deserves) on a daily basis...
FitFreeze Helps You Lose Weight In Powerful Ways...
#1: Squashes Sugar Cravings!
You know that when your sweet tooth starts screaming out, it's nearly impossible to ignore! And until now, there's never been a delicious ice cream that's low in fat, sugar, and calories, and contains NO artificial sweeteners, that can STILL satisfy sugar cravings.
So instead of avoiding your cravings and being miserable, or giving in to temptation and sabotaging your fat-loss goals, enjoy FitFreeze! Delicious Fit Freeze satisfies even the most intense sweet tooth, but it's low in fat, sugar, and calories - and jam-packed with nutrients - so you won't sabotage your weight loss goals.
#2: Loads of Fat-Burning Protein!
Eating carbohydrates alone causes your glucose levels to shoot up and then crash down, leaving you tired, hungry, and weak. This cycle also encourages your body to convert those carbs to fat. Eating protein with carbs, however, helps you stay full longer, and keeps glucose levels consistent, so your metabolism works more efficiently and you feel energized longer.
PLUS, protein has a "thermogenic effect", which means your body uses energy from your fat cells to digest food. Organic foods are almost always higher in thermogenic effect than processed foods and the ones with the highest are proteins, which can take up to 30% of their calories to fully digest!
FitFreeze is loaded with 15 grams of high-quality, slimming protein!
#3: No More Yo-Yo Dieting
Most people get knocked off their diet because they get sick of going without their favorite foods. For anyone who loves to eat, that's pure misery! And you'll unlikely ever get lean and fit that way! Instead, the key to consistent, long-term fat loss is to balance an effective plan with enjoyable eating. FitFreeze makes your weight-loss easy and enjoyable because you won't feel deprived of the occasional treats you love. It's that simple!
#4: Make Hunger Pangs Go Away
Let's face it, trying to eat "healthy" and lose fat usually means feeling hungry throughout the day. And as you may well know, it's tough to stick to a healthy diet when you're always hungry. The good news for you is that each serving of FitFreeze has more fiber (8 grams) than some fruits, vegetables, and even bran cereals! This helps keep you feeling full longer. PLUS, fiber is great for digestion!
#5: More Than 60% Water, Which Is Critical For Fat-Burning
Water is quite possibly the single MOST IMPORTANT catalyst in losing FAT and keeping it off. Our bodies are made up of 60% water and every physiological process, including BURNING FAT and gaining lean muscle, depends on water.
For example, your liver needs water to convert stored fat to energy. In addition, if your kidneys are water-deprived, the liver has to do the kidneys' work all on its own, lowering its ability to help you burn fat.
So, if you're not drinking enough water, you're setting yourself up to store fat. But your water intake doesn't have to be limited to just drinking.You can actually EAT more water too by consuming "water- dense" foods, such as FitFreeze; it's more than 60% water!
#6: This isn't a "Healthy Snack" That's Actually Bad For You
You expect, and already know, that most ice cream is loaded with fat, sugar, and calories ... making fat loss nearly impossible. But just as bad, most weight loss snacks and desserts are jam-packed with artificial sweeteners, flavors, and toxic ingredients - making them no better for you! Delicious FitFreeze is low in fat, sugar, and calories, and has natural ingredients! There are NO artificial sweeteners or toxic ingredients of any kind!
FitFreeze Offers You a Sinfully Sweet and Delicious (and Easy) Way to Lose Unwanted Fat!
With only half the calories of "normal" ice cream, 15 grams of powerful protein, 8 grams heart-healthy fiber, and only 5 grams of fat and sugar...FitFreeze is a delicious option for losing unwanted fat and keeping it off for good!
Plus, your kids will LOVE it, and you'll feel good about giving it to thembecause it's safe and a healthy choice! You and your kids will all the "good stuff" that your mind and body so desperately need!
Frequently Asked Questions
Q. How does FitFreeze work to help me lose weight?
A. There are a variety of ways! First, it's easy to stick to your healthy eating plan because it's low in fat, sugar, and calories, yet tastes really good. Most people go off their diet because they get sick of depriving themselves of the foods they love. Who can live like that?
The key to consistent, long-term fat loss is to balance an effective plan with enjoyable eating. FitFreeze helps make your weight-loss program enjoyable because you don't feel deprived of the treats you love.
People could only try to avoid their cravings and be miserable, or give in to temptation and sabotage their fat-loss efforts. Delicious FitFreeze satisfies even the most intense sweet tooth but it is low in sugar, fat, and calories so you won't sabotage your nutrition plan.
Third, it's high in protein (15 grams per serving)!
A snack or meal of carbohydrates alone causes glucose levels to shoot up and then crash soon after, leaving you tired, hungry, and weak. This also gives your body an easy opportunity to convert that meal to fat. Including a complete protein source with your carbs, such as FitFreeze, may help your metabolism work more efficiently and keep you feeling energized longer!
Fourth, it's high in fiber to help you feel full longer.
Foods high in fiber, such as FitFreeze, also tend to be less "energy dense," which means they have fewer calories for the same volume of food. One serving of FitFreeze has more fiber (8 grams) than some fruits, vegetables, and even bran cereals!
Q. What kind of results can I expect with FitFreeze?
A. This is a tough question to answer, as we're all different and it largely depends on your workout and nutrition plan in general. That is, if you're eating a terrible diet and are very inactive, it's not likely that you'll get good results.
But if you make delicious FitFreeze a part of your healthy meals and you exercise regularly, you're much more likely to get excellent results - and maintain those results for good because you're enjoying yourself.
Q. Why do we feel FitFreeze better than any other ice cream on the planet?
A. There are many reasons. Here are just a few...
It's really good for you AND it tastes amazing!There are NO artificial flavors or sweeteners.
We only use high-quality protein sources from whey, milk, and calcium caseinate!
Each serving has 8 grams of fiber for digestive health and to keep you full longer!
We include flaxseed as a healthy fat source (essential fatty acids)!
It's gluten-free!
Your kids will love it and you'll feel good about giving it to them because it's safe!
It's low in saturated fat, cholesterol, sugar, and calories, so it's great for losing fat!
It's the perfect cure for your sweet-tooth craving!
Q. How do you make FitFreeze?
A. Simply combine 5 ounces of water in a blender with the powder from the FitFreeze container and mix well. Add ¼ - ½ cup crushed ice and blend for an additional minute. Pour the mixture back into the FitFreeze container (or popsicle molds) and freeze. Let thaw until desired ice cream texture and enjoy!
Q. When Making FitFreeze, can you use milk instead of water?
A. Yes, absolutely. You can use low/nonfat milk, almond milk, soy milk or any other kinds of milk. It will make FitFreeze more rich and creamy - perhaps too rich - but it's most definitely an option.
Q. Do you have to use ice when making FitFreeze?
A. No. The ice helps give a creamier texture when you mix it, but it's definitely not necessary. If you don't have (or want to use) ice, simply add ¼ to ½ cup additional water instead. So, instead of mixing FitFreeze with 5 ounces of water + ¼ to ½ cups ice, simply mix with a total of 7 to 9 ounces of water.
Q. What is flaxseed and why do you use it in your formula?
A. Flaxseed is widely considered one of the most powerful plant-foods on the planet. Although flaxseed contains all sorts of healthy components, it owes its healthy reputation primarily to three ingredients:
Omega-3 essential fatty acids: "good" fats that have been suggested to have heart-healthy effects.
Lignans:rich in antioxidants. Flaxseed contains 75-800 times more lignans than other plant foods.
Fiber: Flaxseed contains both the soluble and insoluble types.
You'd think that an ingredient this rich in nutrients would adversely affect the taste. Quite the opposite, actually, and it helps offer a richer, creamier texture too!
Q. Is FitFreeze safe for kids?
A. Absolutely! There are NO artificial flavors or sweeteners. It offers a healthy protein, fiber, and fat source - all of which are very important for growing kids! Plus it's low in sugar!
We realize that none of this matters if it doesn't taste like normal ice cream, as it would be difficult to get your kids to eat it. That's not an issue with FitFreeze; it's as delicious as it is healthy!
Q. What is FitFreeze sweetened with?
A. Great question! We use a little real all-natural sugar and a little Stevia. Stevia is a South American herb that has been used as a sweetener by the Guarani Indians of Paraguay for hundreds of years. The leaves of this small green Stevia Rebaudiana plant have a delicious, refreshing taste that can be 30 times sweeter than sugar.
Stevia is 100% all-natural and has many excellent properties! For example, the body does not metabolize Stevia, so there is no caloric intake. So, Stevia is great for kids, diabetics, and anyone interested in a tasty treat without sabotaging their healthy eating plan.
Q. How many servings are in each containter?
A. The are four delicious servings in each pint-sized container. Now, instead of sabotaging your progress, you're actually eating a delicious treat to lose fat. Picture yourself so satisfied that you aren't forced to "cheat" on sugar-packed, fattening foods... and not only will you resist and defeat temptation, you'll feel great about doing so!