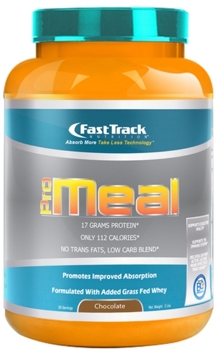 Fast Track Nutrition Pro Meal Protein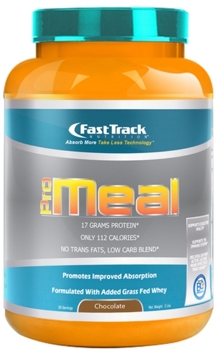 Fast Track Nutrition Pro Meal Protein
Benefits:- 17 grams protein
- Only 110 calories
- No trans fats, low carb blend
- Promotes improved absorption
- Formulated with added grass fed whey
- Soy allergen free and non-gmo
- Supports digestive health
- Supports the immune system
- Delivers 10X more active cultures more effectively than yogurt
At Fast Track Nutrition we have but one goal, to get your hard working body the nutrition it needs to thrive. No longer do you have to over think or over take supplements to get minuscule amounts of ingredients and little benefit.
Our delivery system binds superior nutrition with probiotic powerhouse GanedenBC30 getting it to your digestive tract where it's absorbed quickly and completely. Our Absorb More Take Less Technology means you get the support your body needs, and the results you deserve at a price that makes sense. Welcome to the Fast Track.
Meal-replacement shakes are an effective and easy way to take control of your weight loss goals. Skipping meals is never an option when trying to maintain and promote a healthy metabolism. Busy athletes want a great tasting meal replacement shake that combines the proper balance of carbohydrates, fats, and high-quality proteins to provide sustained energy and appetite control. Fast Track's Meal Replacement provides 17 grams of superior protein, in a low-sodium, low-carb formula. Our vitamin and mineral blend does not contain any trans fats, aspartame, artificial colors or preservatives. Fast Track Pro Meal has an amazing taste and texture you will enjoy each day.
ADDED BENEFITS: Stacks well with Pro BCAA, Pro Creatine and Pro Glutamine
These statements have not been evaluated by the Food and Drug Administration. This product is not intended to diagnose, treat, cure, or prevent any disease.