Warning: This product is not currently available at any store.
Click the button above and PricePlow will email you when the first store has it in stock!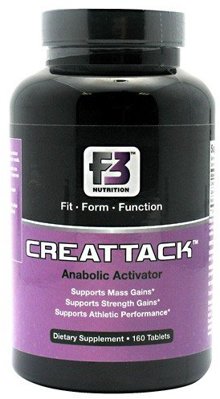 Anabolic Activator
Extra Energy - Boosts energy, allowing you to train or compete harder, longer, and dig deep when you need a big burst of energy. Creatine works to help restore ATP stores, preparing you to work hard again.*
Protein Synthesis - Recent studies revealed that creatine & HMB supplementation stimulates muscle specific protein synthesis.*
Increases Muscle Volume - Volumizes muscles, which strengthens muscles cells. With a greater muscular volume, you are generally stronger, and will carry more lean muscle mass.*
Buffers Lactic Acid - Creatine & Beta-Alanine work as lactic acid buffers, delaying muscle fatigue, and allowing you to work longer into sets, or harder on the playing field.*
Science has proven that Creatine delivers on its promise of improving strength. Using that science, F3 Nutrition developed CreAttack to go beyond and deliver even more, by adding Beta-Alanine and HMB to deliver one of the most potent anabolic activators on the market.*
Studies show that Creatine combined with Beta-Alanine delivers greater increases in strength plus delays in muscle fatigue. HMB added to Creatine also shows greater increases in strength and improved lean body mass. Makes for an awesome combination!*
The Science of CreAttack
CreAttack uses only the most potent, patented forms of 3 key ingredients to form the ultimate Power Blend - Creapure creatine monohydrate, MTI HMB and CarnoSyn beta-alanine.*
Creapure is regarded as the safest creatine on the world market and proven the most effective through numerous studies. Studies have shown a 10 to 15% boost in overall strength, and a lean muscle mass gain of up to 10 pounds.*
MTI HMB is back by 11 clinical studies and is regularly used in the medical field to reduce muscle loss and by athletes of all types to increase strength, endurance, and lean muscle mass. It is clinically proven to decrease protein breakdown at a molecular level caused by hard workouts while stimulating protein synthesis.*
CarnoSyn is clinically proven to increase muscle carnosine levels leading to increased strength, improved aerobic and anaerobic endurance, and delays in muscle fatigue. It is widely known for lowering muscle exhaustion, increases in endurance and strength, as well as assisting weight reduction.*
Creatine is the most scientifically researched sports supplement on the planet. Everyone is aware of creatine's ability to increase muscle phosphocreatine, making more ATP available to the working muscles and resulting in strength gains. Studies now show that when combined with beta-alanine there is an even greater strength increase and a delay in muscle fatigue during training.*
Additional studies also show that when creatine is combined with HMB there is a greater increase in strength and lean body mass, and that this combination has a nitrogen-sparing effect. F3 Nutrition has taken this science and combined creatine with beta-alanine and HMB to deliver one of the most potent anabolic activators on the market.*
With this product combination there is no doubt - CreAttack will drive increases in lean muscle mass, boost strength, and provide you with more energy during intense workouts.*
CreAttack Frequently Asked Questions
Will it help me to take CreAttack combination of ingredients than just Creatine alone?
New research is revealing a synergistic, beneficial relationship between creatine and beta-alanine. The combination of creatine and beta-alanine participants in studies gained more lean mass, boosted endurance performance and lost more body fat than a group supplementing with only creatine. Research also shows that HMB combined with creatine produces greater results than either HMB or creatine alone. A published study shows the two most powerful supplements have an additive effect (Strength and Muscle Building: 2001: Jowko). HMB and creatine is the largest-selling HMB supplement on the market. There can be no doubt: HMB and creatine is the proven combination that helps bodybuilders increase lean muscle mass and, in turn, strength and strength-related performance benefits.*
What is Creatine?
Creatine is a nitrogenous organic acid produced in the kidney and liver that helps to supply energy to all cells in the body. Creatine is non-essential as it is manufactured in the human body from three amino acids (arginine, glycine, and methionine). Approximately 95% of the creatine in the human body is located in skeletal muscle.*
Is Creatine safe?
Creatine is the most scientifically researched sports supplement on the planet. Creatine supplementation has been proven over and over as safe and effective for enhancing performance in a wide range of sports. Combine the proven effectiveness of creatine with the fact that it has no side effects, and you have the most widely used performance enhancement product of the last century. It is safe and recommended for men and women.*
Should athletes load or not load?
Current research shows that loading is not necessary and may actually lead to cramping and other negative side effects such as gastric intestinal distress. The recommendation of 5 grams daily is all that is required to reap the performance enhancing benefits of creatine.*
Weight gain derived from Creatine ingestion: Is it water or muscle?
Creatine supplementation typically promotes gains in body mass and/or fat free mass. Some have suggested that because the gains are fairly rapid, that the gains must be fluid retention. The initial weight gain may promote some water retention, but a number of recent studies do not support this concept. Most studies that have evaluated the effects of creatine supplementation on fluid retention and body composition indicate that although total body water increases, the increase appears to be proportional to the muscle mass gained.*
Should teenagers take Creatine?
There is no definitive research showing adverse effects to adolescent athletes who consume creatine as directed. However, F3 Nutrition's products are designed for healthy adults over 18 years of age seeking to support energy, performance and muscle development during resistance exercise or other forms of fitness training.*
What is HMB and what does it do?
HMB is a component of the branched amino acid Leucine. HMB aids in increasing muscle protein (mass) in two ways: It decreases protein breakdown from hard workouts by signaling the body to slow down the destruction of muscle tissue. HMB also disrupts protein breakdown by decreasing the ubiquitin-proteasome proteolytic pathway.*
What will taking a supplement with HMB do for me?
It will do as much as you want it to; the harder you work, the more effect you will get. Studies have shown that HMB supplementation can do the following:
Increase Muscle Mass and Strength*
Decrease Body Fat Along with a Well Balanced Diet and Exercise*
Decrease Muscle Damage*
Does HMB work for women and older adults?
Yes, published research results show that women and older adults who take supplemental HMB and exercise have enhanced strength, maintained muscle and increased fat loss as well.*
What will HMB do for runners or cyclists that don't want to bulk-up?
HMB can benefit endurance athletes as well. Research has shown that HMB increases VO2 max (maximal oxygen consumption), which is an indicator of endurance capacity. HMB has also been shown to minimize muscle damage and soreness associated with prolonged/strenuous endurance exercise.*
What is Beta-Alanine and where does it come from?
Beta-Alanine is a non-essential amino acid found naturally in both foods such as chicken, beef, pork, fish and it naturally occurs in the body. It makes anyone who takes their training seriously, who wants to be bigger, faster, stronger and more defined, very happy.*
How does Beta-Alanine work?
Beta-Alanine helps the body to synthesize the compound Carnosine, which is found throughout the body, but most notably in the muscles. Carnosine lessens the impact of fatigue during workouts and increases the power of the muscles. So how does this work exactly? As a person exercises, especially during a high intensity workout, positively charged hydrogen atoms (H+) start accumulating in the region, causing things to become more acidic. Lactic acid is also produced because of the metabolism of glycogen, which is one of the forms of energy the body uses. These two factors cause fatigue and muscle burn and soreness.*
So how does Carnosine work then? Carnosine acts by absorbing stray H+ atoms it comes in contact with, thereby assisting the body in maintaining its pH balance during a workout routine. This action delays fatigue until the stray H+ atoms become so great that fatigue is inevitable. So the greater the supply of Carnosine in the muscles, the more H+ atoms the body is able to absorb.*
Who needs Beta-Alanine and how much should be taken?
Beta alanine might be one of the most versatile amino acid supplements discovered — whether you're an endurance athlete, bodybuilder, powerlifter, or just someone who wants to get bigger, stronger or leaner. Recommended maximum dose limit is 800 mg for a man.*
Are there any side effects?
Some people may notice a tingling sensation on the skin in the first few weeks directly after ingestion that lasts about an hour. Eventually this subsides after a few weeks of supplementation. It is caused by how Beta Alanine binds to nerve receptors. It is not felt by everyone, so it is not a sign of it working or not.*
How long does it take for Beta-Alanine to work?
Beta-Alanine benefits typically occur in as little as two weeks, although some individuals will notice benefits within one week. As carnosine levels increase, the benefits will follow. The most dramatic results are generally experienced within the 3-4 week range but they don't stop there. Recent research is now showing carnosine levels continue to increase for a minimum of 12 weeks which is why we recommend staying on Beta-Alanine for at least three months to optimize your carnosine levels.*
Is there scientific proof Beta-Alanine works?
Beta-Alanine efficacy is backed by major university, peer-reviewed studies performed on humans and not animals which other products typically base their claims on. The science behind Beta-Alanine is simple, it makes sense and it works.*
References
Effect of leucine metabolite b-hydroxy-b-methylbutyrate on muscle metabolism during resistance-exercise training.S. NISSEN, R. SHARP, M. RAY, J. A. RATHMACHER, D. RICE, J. C. FULLER, JR., A. S. CONNELLY, AND N. ABUMRAD. Iowa State University, Ames 50011; Metabolic Technologies Inc., Ames, Iowa 50010; MET-Rx Inc.,Irvine, California 92715; and North Shore University Hospital, Manhasset, New York 11030.
Effect of Creatine and ß-Alanine Supplementation on Performance and Endocrine Responses in Strength/Power Athletes Jay Hoffman, Nicholas Ratamess, Jie Kang, Gerald Mangine, Avery Faigenbaum, and Jeffrey Stout International Journal of Sport Nutrition and Exercise Metabolism, 2006, 16, 430-446.
Effects of Creatine Supplementation and Resistance Training on Muscle Strength and Weightlifting Performance ERIC S. RAWSON1 AND JEFF S. VOLEK2 1Department of Exercise Science and Athletics, Bloomsburg University, Bloomsburg, Pennsylvania 17815;2 Department of Kinesiology, University of Connecticut, Storrs, Connecticut 06269.
ß-alanine Supplementation Improves Isometric Endurance of the Knee Extensor Muscles Craig Sale1*, Chester A Hill2, James Ponte3 and Roger C Harris4. Sale et al. Journal of the International Society of Sports Nutrition 2012, 9:26.