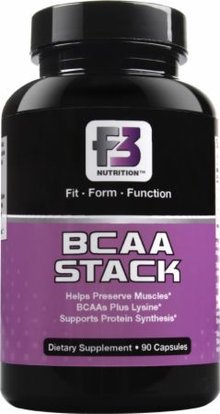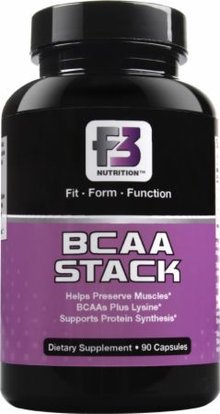 Fit • Form • Function
Amino acids are the building blocks of muscle. Studies show that a 2:1:1 ratio of Leucine to Isoleucine to Valine is the most effective combination. BCAA Stack combines this perfect ratio with a booster of the amino acid Lysine, which when combined with BCAAs has been shown in studies to increase growth hormone production during exercise and improve protein synthesis.*
BCAAs Plus Lysine
Helps Preserve Muscles*
Supports Protein Synthesis*
Increased Recovery*
Greater Endurance*
Stimulation of Fat Loss*
Boosts Immune Function*
Branched Chain Amino Acids (BCAAs) leucine, isoleucine and valine have earned their place as a supplement staple for bodybuilders and other athletes. Especially effective for weight trainers to produce an anabolic (muscle building) effect, BCAAs offer a multitude of advantages that are beneficial to anyone hungry for added muscle and increased strength. Taking F3 Nutrition's BCAA Stack after workouts will be beneficial for improving muscle synthesis, decreasing muscle breakdown and fat mass, and promoting recovery.*
Studies show that a 2:1:1 ratio of leucine to isoleucine to valine is the most effective combination. BCAA Stack combines this perfect ratio of BCAAs with an added booster of the amino acid Lysine to create a supercharged BCAAs/Lysine supplement.*
Amino acids are the building blocks of muscle. In fact, BCAAs make up about one-third of muscle protein. Getting adequate amounts of amino acids is difficult for those who exercise. Failure to replenish the body with proper amino acids can cause people who work out vigorously to make little or no progress.*
Added Benefit of Lysine
Lysine when combined with BCAAs has been shown to increase growth hormone production during exercise and improve the synthesis of protein. Lysine also plays an especially important role in the formation of carnitine, which helps your body convert fatty acids into energy.*
F3 BCAA Stack Frequently Asked Questions
Why should I choose F3 Nutrition's BCAA Stack?
F3's BCAA Stack contains the ideal ratio (2:1:1) of Leucine, Isoleucine and Valine necessary for optimal muscle growth and recovery. F3 Nutrition's BCAAs Stack also contains Lysine, an essential amino acid that plays a role in calcium absorption, building muscle protein, and the production of hormones, enzymes and antibodies.*
What are BCAAs?
BCAAs are essential amino acids, which are the building blocks of protein. When you eat protein-rich food, it's digested through the lining of the intestines and stomach, breaking down the protein into short chains before being absorbed into bloodstream. BCAAs act as nitrogen carriers and stimulate the production of insulin which allows blood sugar to be taken up by the muscle cells and to be used as an energy source.*
When is the best time to take BCAAs?
When it comes to BCAAs, timing is crucial. To gain more muscle mass, strength and energy, the most critical time for taking BCAAs is around workouts. For best results, you should take one dose within 30 minutes before your workouts along with your pre workout protein shake and carbs, and another dose within 30 minutes after workouts along with your post workout protein shake and carbs.*
What is the difference between Essential and Non-Essential Amino Acids?
Essential amino acids cannot be produced by the human body. You must acquire them from complete protein food sources such as meat, poultry, fish, eggs, and dairy products. On the other hand, non-essential amino acids can be produced by the body from vitamins and other amino acids.*
Why are BCAAs important for athletes?
They are important for muscle growth & recuperation. In addition to building cells and repairing muscle tissue, BCAAs help form antibodies that combat invading bacteria & viruses. BCAAs also combat 'central fatigue' brought on by an imbalance of BCAAs to Tryptophan ratio. It is this imbalance that causes you to feel tired and lethargic following long hard efforts. Amino acids also play an important role in muscle repair, hair and nail growth, and essential brain functions.*
Should I take BCAAs separately if I'm already taking amino acids supplements?
Absolutely! It is good to take BCAAs separately from the other amino acid groupings because they can dominate entry into the systems of the body. As with the general rule in nutrition, you need to take BCAAs supplement with a healthy and well-balanced diet along with regular exercise to maintain fitness and health.*