Quick Links to Best Prices Price History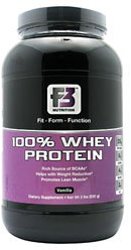 F3 Nutrition 100% Whey Protein
Fit • Form • Function
Proteins are one of the most important nutrients and are extremely essential to the human body. As an athlete exercises, more amino acids and protein are required by the body than in an inactive person, thus the need for dietary protein is increased.*
Rich source of BCAAs (including leucine) and bioactive components to help increase fat loss and promote lean muscle tissue as part of a healthy diet and exercise.*
May help to maintain adequate glutathione levels, for a healthy immune system.*
Whey protein supplementation before exercise enables more effective fat utilization and preservation of muscle.*
Easily digested, low lactose, high quality protein provides additional energy.*
Helps in weight reduction and fat loss when combined proper diet and exercise.*
Contains components which enhance protein synthesis, thereby speeding up the rebuilding process of torn muscle tissue.*
100% Whey Protein is a terrific lean protein and is gaining widespread importance as a complete protein source. Whey protein is basically a type of protein, found in abundance in milk. Proteins have the high-profile job of natural bodybuilding (muscle and bone growth). Whey protein helps in building and repairing all the muscles in the body. Whey protein helps stimulate muscle protein synthesis after exercise to reduce muscle damage and improve endurance. Regular exercise and consumption of 100% whey protein also helps in developing lean muscles and in increasing the mass of muscles.*
100% Whey Protein is naturally rich in Branched Chain Amino Acids (BCAAs). In fact, it contains the highest levels of any other natural food source. If you are exercising you should know that your protein levels will start to deplete once you start exercising, as a result you will require supplemental amino acid to prevent this depletion as well as enhance endurance and build mass. Whey protein also acts as an agent to reduce hunger. It can significantly assist in losing fat as well as tone up your body.*
It is very beneficial to take whey protein before exercise to provide the nutrients your body needs during training. It is also recommended to have a whey protein shake 0-30 minutes after your workout as this will provide your body with the energy and protein required to support the muscle building process; it will also prevent a buildup of cortisol.*
F3 100% Whey Protein Frequently Asked Questions
What is 100% Whey Protein?
Whey protein is a mixture of proteins isolated from whey, the liquid material that is a by-product of cheese manufactured from cow's milk. The whey is then processed to remove fat and other non-protein materials before micro-filtration occurs. As a supplement the whey protein is then concentrated into an even higher nutrient delivery system. It is low in sugar and carbohydrates.
When is the best time to take 100% Whey Protein? - before or after my workout?
The answer is actually BOTH! You should have a Protein Shake 30-45 minutes before your workout and immediately after working out. Drinking a whey protein shake prior to working out will help your body maintain a positive nitrogen balance and anabolic state. Drinking a whey protein shake post workout provides a high concentration of branched chain amino acids (BCAAs) to maintain and repair lean muscle tissue following exercise and to prevent muscle breakdown. It also helps stimulate muscle protein synthesis after exercise to reduce muscle damage and improve endurance. (take within 30 min after training).*
Can I take 100% Whey Protein during the day?
You can use 100% Whey Protein anytime of the day to supplement your diet with protein. 100% whey Protein tastes great blended with oatmeal as a tasty breakfast option, can be consumed in a smoothie with fruit, and even as a shake before you go to bed.
Whey protein is a dairy product is it high in lactose?
The concentration of protein in 100% whey protein concentrates increases, the lactose concentration decreases. Therefore 100% Whey Protein concentrated is low in lactose.
What is 100% Whey Protein sweetened with?
It is low in sugar and sweetened with cane sugar, acesulfame potassium, and sucralose.
Can 100% Whey Protein help me lose weight?
Whey Protein is an excellent nutritional supplement for weight management. It exhibits a greater satiety effect (feeling full) compared to other proteins such as soy protein isolate and egg protein. It also may help stimulate an appetite-suppressing, satiety effect to reduce overeating.*
How much Protein should I be taking?
So how can you tell if you're already getting enough protein? Do the math.
Recreational athletes need 0.5-0.75 grams of protein daily for every per pound of body weight.*
Competitive athletes need 0.8-1.2 grams per pound.*
Teenage athletes need 0.8-1.3 grams per pound.*
Athletes building muscle mass need 1.3-2.0 grams per pound.*
So if you're an adult athlete who wants to build muscle mass, and you weigh 175 pounds, the most protein you would need per day is 262.5 grams. That sounds like a lot, but one 4-ounce hamburger contains 30 grams of protein, 6 ounces of tuna has 40 grams, a single ounce of cheddar cheese has 7 grams, and one serving of 100% Whey Protein delivers 25 grams.*
Is 100% Whey Protein gluten free?
Yes.
Do I have to use a blender to mix up my 100% Whey Protein powder?
No, 100% Whey Protein was developed with an advanced technological process using instantized protein powder, meaning that it mixes easily in a shaker cup and doesn't require a blender. 100% Whey Protein mixes well with water or milk in a shaker cup, creating a nice smooth drink. Of course, if you like making protein shakes with your blender, 100% Whey Protein can be used in the blender as well.*