Warning: This product is not currently available at any store.
Click the button above and PricePlow will email you when the first store has it in stock!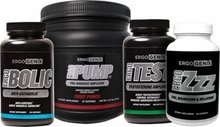 ErgoGenix Testosterone Amplifier Stack
ErgoGenix ErgoBolic
To make continuous gains in strength and lean mass, you need to make sure that your body's hormones are in a positive anabolic state. ErgoBolic minimizes catabolic (muscle destroying) hormones like cortisol & myostatin, while maximizing the anabolic ones.
ErgoGenix ErgoPump NMT
ErgoPump is ErgoGenix's entry in the pre-workout performance category. Athletes of all types may benefit from ErgoPump's Energy & Muscle Amplification formula.* ErgoPump works to enhance Energy, Focus and Performance.* This scientifically designed, cutting-edge formula works to augment blood flow by promoting nitric oxide production, as well as supporting cognitive function.*
ErgoGenix ErgoTest
You're fed up with wasting money on scientifically debunked testosterone boosters, and we get it. Unfortunately, we're not all scientists, so don't blame yourself for falling for false marketing, because ERGOGENIX took care of the science for you: ErgoTest is here. Our synergistic and clinically-backed formula will set you apart from other natural athletes, supporting hormonal domination in the gym, and in daily life.* Enough toying around with shiny labels and out-dated ingredients, it's time to unleash the alpha male.
ErgoGenix ErgoZZZ
ErgoZzz is a scientifically engineered formula designed to support optimum testosterone levels in athletes and recreational bodybuilders.*
The synergistic combination of Zinc, Magnesium, and vitamin B6 has been suggested to help support anabolic hormones like testosterone, reduce catabolic hormones like cortisol, and promote overall health and bodily function.* Zinc and Magnesium are both essential minerals that are lost through sweat, and therefore, active individuals must be especially careful about getting the right amounts of zinc and magnesium through diet and supplementation. Vitamin B6 perfectly complements this blend by promoting recovery, proper amino acid utilization, and deeper sleep.* Melatonin is a hormone made by the pineal gland. Melatonin helps support your sleep and wake cycles.*