Warning: This product is not currently available at any store.
Click the button above and PricePlow will email you when the first store has it in stock!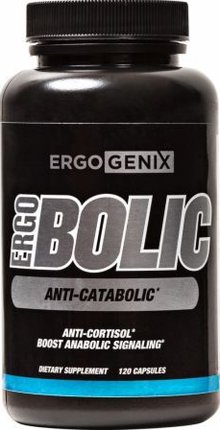 Swipe left/right to reveal product information
ErgoBolic Overview
To make continuous gains in strength and lean mass, you need to make sure that your body's hormones are in a positive anabolic state. ErgoBolic minimizes catabolic (muscle destroying) hormones like cortisol & myostatin, while maximizing the anabolic ones.
Key Benefits of ErgoBolic
Lowers Cortisol
Boosts anabolic signaling
Controls Myostatin
Engineered Design
What if you could put a list together of every anabolic hormone versus a list of every catabolic hormone, and simply pick the ones you'd want more of and which ones you'd less of? Well that's exactly what we did with ErgoBolic! We made those lists and formulated a supplement that would not only protect our muscles from catabolic hormones, but would also kickstart the anabolic process.*
You've probably heard about the so-called "stress hormone" cortisol. It not only has the ability to break down your hard-earned muscle fibers, but can also lower two of the most anabolic hormones you've got: Testosterone and Insulin-like Growth Factor 1. To make matters worse, cortisol lowers your ability to produce active thyroid hormone and helps your body gain fat! Cortisol levels can become elevated from any type of stressful situation, from sitting in traffic to intense weight training. ErgoBolic is the first sports nutrition product to make use of Sutherlandia frutescens, an herb that has been shown to significantly lower cortisol. And it doesn't just lower that nasty catabolic hormone, it stops the stress-induced elevation of Myostatin – a hormone that literally puts the breaks on muscle growth, stopping it dead in its tracks.*
If that's all Sutherlandia could do, it would be enough. But it has been shown in stressed animal models to elevate the natural anabolic signals produced by the body. You don't need to know what PI3K, p-AKT, or MyoD are, or what the AKT/mTOR pathway is, but if you do, you know that they're potent signaling proteins that tell your body to build more muscle. When you're putting stress on your body, whether it's from training or just from life, Sutherlandia is your best friend; literally triggering these proteins to increase production and go into overdrive! As amazing as it sounds, during a stressed state Sutherlandia could actually force the body to stop burning muscle for fuel and use fat instead.*
The next ingredient in ErgoBolic is a more well-known cortisol inhibitor: Black Tea Extract (BTE). Black Tea Extract has been shown in human research to lower cortisol levels by up to 47%. Just think how much more muscle and strength you could gain if you had 47% less cortisol in your body!*
Finally, we added an ingredient that is very well known, but not for lowering cortisol: Momordica charantia. Momordica is well known for its ability to control blood sugar and burn fat, but Ergogenix knows something else about the herb…it's a potent inhibitor of the 11b-Hydroxysteroid dehydrogenase type 1 enzyme (11b-HSD1). Again, you don't need to know what that means, because the important part is that this enzyme ultimately activates cortisol. So when Momordica inhibits the 11b-HSD1 enzyme, your body is going to have less cortisol floating around. And that's going to open the door to more size and strength – especially working synergistically with the Sutherlandia and Black Tea Extract.*