Quick Links to Best Prices
140 Softgels
(Buy 1 Get 1 FREE) Price History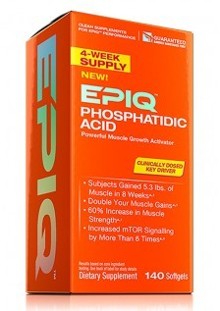 One of the Most Powerful Musclebuilders Ever Developed
EPIQ PHOSPHATIDIC ACID
Subjects Gained 5.3 lbs. of Real Muscle in 8 Weeks
The Power to Double your Muscle Gains
60% Increase in Pure Muscle Strength
Triggers the Primary Musclebuilding Process – mTOR
Provides 1500mg of Mediator PA Delivering 750mg Phosphatidic Acid
triggers the primary musclebuilding process
Phosphatidic acid is one of the most exciting muscle and strength compounds ever researched! This amazing diacyl-glycerophospholipid signaling molecule powerfully activates and amplifies muscle cell protein synthesis for rapid, real gains in lean muscle and strength. In fact, it's so powerful you need to try it yourself to truly believe it.
Double Your Muscle Gains
Published, peer-reviewed research has shown that the exact dose of phosphatidic acid in EPIQ PHOSPHATIDIC ACID can help you build twice as much muscle as you could if you simply trained! Who wouldn't want to build twice as much muscle?
In a recent study conducted by Dr. Jacob Wilson and his research team at The University of Tampa on 28 resistance-trained subjects, those who trained hard 3 times a week and took the exact dose of phosphatidic acid found in EPIQ PHOSPHATIDIC ACID for 8 weeks actually doubled the amount of muscle they gained compared to subjects following the same training protocol, but who were only taking a placebo. This 8-week clinical study was published in the prestigious scientific journal Nutrition & Metabolism.
Increase Strength by 60%
Subjects not only experienced a 100% increase in lean body mass, they also jacked up their strength, experiencing a 60% greater increase in 1-rep max leg press strength compared to subjects who resistance trained while taking a placebo!
In this same study involving resistance-trained men undergoing a very intense exercise program, subjects supplementing with phosphatidic acid jacked up their 1-rep max leg press by 60% vs. the placebo group! These are real test results from a real university study on athletes.
Full 750mg - Clinical Dose of Phosphatidic Acid
Each serving of EPIQ PHOSPHATIDIC ACID contains a full dose of 750mg of Mediator phosphatidic acid. This is the exact same amount used in the breakthrough study performed by Dr. Jacob Wilson at The University of Tampa.
Beware of Imitators
Scientists tested various sources of soy- and egg-derived phosphatidic acid, and reported their findings in data published in Nutrition & Metabolism, unveiling that soy-derived phosphatidic acid (Mediator) increased mTOR signaling the most – by 636%! Mediator was then used in the groundbreaking study conducted by Dr. Jacob Wilson and his research team at The University of Tampa, whose subjects used exactly 750mg of this patented form of phosphatidic acid. This makes phosphatidic acid one of the hottest new supplements and one of the most costly to license and manufacture. But beware of unscrupulous companies who cut corners by underdosing their supplements or infringe patents with generic ingredients. If the supplement you're using has phosphatidic acid, but doesn't display the Mediator logo, then you're getting ripped off with a sub-par generic product that is likely severely underdosed and has not been studied. Why pay for knockoffs with questionable ingredients? With EPIQ PHOSPHATIDIC ACID, you can be confident you're getting the researched 750mg dose of certified 100% Mediator phosphatidic acid that has been verified by the inventor, Chemi Nutra, using nuclear magnetic resonance analysis testing.
Nuclear Magnetic Resonance Tested
EPIQ PHOSPHATIDIC ACID has been tested and verified by a specialized testing procedure called nuclear magnetic resonance spectroscopy. Nuclear magnetic resonance (NMR) spectroscopy is an analytical chemistry technique used in quality control and research for determining the content and purity of a sample as well as its molecular structure. In fact, this method of testing is so specialized that we worked with a highly technical lab in Germany for analytical testing to ensure that the product meets the label claim. This highly specialized and expensive procedure is the only robust way of testing for a compound that contains phosphorus and exhibits the chemical characteristics of phosphatidic acid. This makes it extremely important for consumers to stick with proven brands that only use Mediator phosphatidic acid, and use the full, disclosed dose of 750mg. If you see a product without the Mediator logo, or if their phosphatidic dose is not disclosed, steer clear, as it will likely contain untested materials in questionable doses!
Compare for Yourself
With EPIQ PHOSPHATIDIC ACID, you're not only getting a clinically studied 750mg dose of pure Mediator phosphatidic acid, but you're also getting the best value per serving. Don't settle for non-verified knockoffs. Trust EPIQ to provide you with the cleanest and purest new ways to build muscle!
EPIQ PHOSPHATIDIC ACID

Competitor 1
Competitor 2
Competitor 3
Full 750mg DOSE OF PA
YES CERTIFIED
? (Non-Certified)
YES
YES
USES ONLY PATENTED, CLINICALLY STUDIED MEDIATOR FORM OF PA
YES
NO
YES
YES
# DAYS OF SUPPLY
30
30
20
21
SALE PRICE
$89.99
$27.99
$64.95
$79.99
COST PER SERVING
$3.00
$0.93
$3.25
$3.81
BEST VALUE
✓
X
X
X
how to take epiq phosphatidic acid
Take 1 serving (5 softgels) once daily. On workout days, take 30 minutes before training. Do not exceed 5 softgels in a 24-hour period. Read the entire label before use and follow the directions provided.