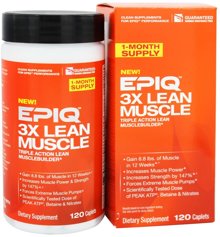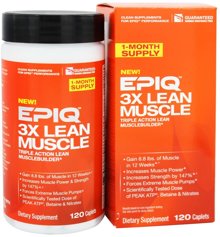 EPIQ 3X LEAN MUSCLE

TRIPLE ACTION LEAN MUSCLEBUILDER
Gain 8.8 lbs. of Muscle in 12 Weeks*
Increases Muscle Power & Strength by 147%*
Forces Extreme Muscle Pumps*
Scientifically Tested Dose of PEAK ATP, Betaine & Nitrates
EPIQ is a line of powerful, effective, and guaranteed clean supplements formulated for elite athletes who demand the highest quality for EPIQ performance.EPIQ Guaranteed Supplements are:
Free of banned substances
Free of artificial colors or dyes
Free of harmful impurities
Free of undeclared ingredients
Developed with a scientifically researched key ingredient
Manufactured according to current Good Manufacturing Practices (cGMP) standards, as is required for all dietary supplements
EPIQ 3X LEAN MUSCLE – Powerful Lean 3 Muscle Stimulator
In your hands is EPIQ 3X LEAN MUSCLE, a one-of-a-kind lean muscle stimulator that combines the musclebuilding power of two cutting-edge clinically researched musclebuilding ingredients. First, EPIQ 3X LEAN MUSCLE has the exact clinical dose of PEAK ATP shown in a 12-week clinical study to increase strength by 147% more than subjects using a placebo! What's more, these same subjects gained 8.8 lbs of lean muscle vs. the placebo group, who only gained 4.6 lbs. Researchers believe this amazing ingredient impacts your athletic performance on many different levels by stimulating the anabolic mTOR pathway, helping your muscles control ionic flux during contractions so they can recover and contract faster while improving blood flow and resulting in improved oxygen and nutrient delivery to your muscles. In addition to PEAKATP, EPIQ 3X LEAN MUSCLE utilizes the power of ultra-clean betaine to further fuel your quest for unstoppable muscle growth! EPIQ 3X LEAN MUSCLE contains the exact amount of betaine shown in a 2013 study to pack on 3.75 lbs. of pure lean muscle in strength-trained test subjects in 6 weeks!
In fact, the subjects in this groundbreaking study who took betaine improved muscle mass, arm size, and also increased their bench press work capacity! EPIQ 3X LEAN MUSCLE also contains a scientifically tested dose of nitrates to power superior muscle oxygen utilization for relentless training endurance!