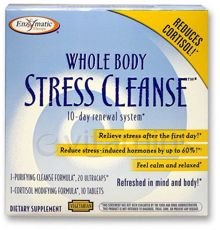 Enzymatic Therapy Whole Body Stress Cleanse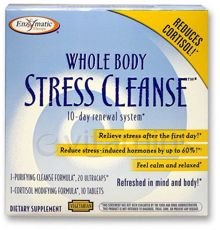 Enzymatic Therapy Whole Body Stress Cleanse
Whole Body Stress Cleanse Description from ENZYMATIC THERAPY
Day-Night, Dual-Action Stress Defense
Whole Body Stress Cleanse 10-Day Renewal system provides day and night protection to help combat stress.
-Daytime: The Purifying Cleanse formula fuels your body's stress defenses with high-potency antioxidants, which work to:
-Deactivate harmful free radicals.
-Prevent production of stress induced toxins.
-Nighttime: The Cortisol Modifying Formula is clinically studied to help your body relax, rebuild, and reenergize while you sleep. Initiated at night, this formula provides extended, next day support to:
-Reduce cortisol up to 60% after the first day.
-Help maintain healthy cortisol levels for the day ahead.
-Promote a natural sleep cycle.

-Recharge, relax, and renew!
This kit has everything you need for a 10-day renewal system, including an insert with additional tips on lifestyle, exercise and diet.
Purifying Cleanse Formula
Supplement Facts
Service Size: 2 capsules
Servings Per Container: 10
Ingredient
Amount
% Daily Value**
Total Carbohydrate
Vitamin A (as beta carotene)
5000IU
100
Vitamin C (ascorbic acid)
120mg
200
Vitamin E (d-alpha tocopheryl succinate)
60IU
200
Selenium (as sodium selenite)
70mcg
100
Antioxidant-Rich Food Blend
700mg
-European elder (Sambucus) berry, grape seed extract, lowbush blueberry
-tumeric rhizome extract, acai fruit
Alpha Lipoic Acid
200mg
Quercetin
100mg
Giant Knotweed Root
50mg
** Percent Daily Value is based on a 2000 calorie diet. Your daily values may be higher or lower depending on your calorie needs.
† Daily Value not established.


Cortisol Modifying Formula
Supplement Facts
Service Size: 1 tablet
Servings Per Container: 10
Ingredient
Amount
% Daily Value**
Sodium
5mg
Stress-Reducing Proprietary Blend
250mg
-Ashwagandha root and leaf extract and L-Theanine
-Cortisol Reducing Proprietary Blend
225mg
-Magnolia bark extract and epimedium aerial part extract
Phosphatidylserine
50mg
** Percent Daily Value is based on a 2000 calorie diet. Your daily values may be higher or lower depending on your calorie needs.
† Daily Value not established.


Ingredients:
Purifying Cleanse:vegetable capsule (modified cellulose), potassium bicarbonate, silicon dioxide, magnesium stearate, and cellulose.

Cortisol Modifying Formula: dextrose, cellulose, modified cellulose gum, modified cellulose, magnesium stearate, stearic acid, titanium dioxide color, soy lecithin and carnauba wax.

Manufacturer's Directions
For 10 days, take one UltraCap in the morning and one at night. May be taken as two UltraCaps as two UltraCaps at night.

Manufacturer's Disclaimer
IF pregnant, nursing, or taking prescription drugs, consult your healthcare practioner prior to using Purifying Cleanse Formula.

Cortisol Modifying Formula: Drowsiness may occur. Avoid driving, operating heavy machinery, or consuming alcohol while using this product. If pregnant nursing or taking prescription drugs, or if you suffer with chronic insomnia, consult your healthcare practioner prior to use. Keep out of the reach of children.




Be The First To Review This Product







Similar Products

ENZYMATIC THERAPY Quick Renewal 5-Day Cleanse   1 kit

Our Price $10.35

ENZYMATIC THERAPY Whole Body Cleanse Lemon  1 kit

Our Price $14.89

ENZYMATIC THERAPY Complete Liver Cleanse   84 caps

Our Price $11.35