Quick Links to Best Prices Price History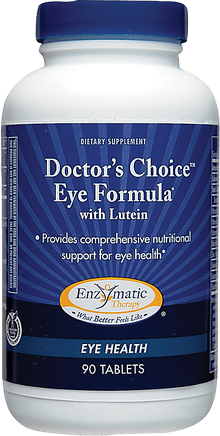 Enzymatic Therapy Doctor's Choice Eye Formula
Enzymatic Therapy Doctor's Choice Eye Formula 90 Tablets
Enzymatic Therapy has formulated a product that not only supports an insufficient diet with vital nutrients but it supplies essential nutrients for healthy vision. This formula contains Lutein which helps support eye health.
---
Enzymatic Therapy Doctor's Choice Eye Formula Benefits:
Promotes Eye Health and Vision
Vitamin A - essential for eyes' adaptation to changes in light, night vision, and color vision.
Beta-carotene, which helps maintain eye moisture.
Zinc, which helps prevent night blindness and supports vitamin A.
Vitamin C, which is essential to eye lens function.
Lutein is a protective ingredient for eye health.  Lutein is naturally highly concentrated in the retina, and researchers believe that this antioxidant supports macular pigment, which absorbs ultraviolet radiation from the sun.
Bilberry, which helps strengthen the small blood vessels in the eyes and helps protect the cells in the eyes from free-radical damage
---
Enzymatic Therapy Doctor's Choice Eye Formula Directions:
Take Three tablets daily, during or after meals.
---
Enzymatic Therapy Doctor's Choice Eye Formula Ingredients:
Serving Size: 3 Tablets
Amount/Serving
%DV
Calories
10
Total Carbohydrate
2g
Dietary Fiber
3%**
Vitamin A (50% as beta carotene and as retinyl acetate)
5,000IU
100%
Vitamin C (ascorbic acid)
600 mg
1,000%
Vitamin E (as d-alpha tocopheryl acid succinate)
60IU
200%
Riboflavin (vitamin B2)
1.5 mg
88%
Zinc (as zinc picolinate)
9 mg
60%
Selenium (as L-selenomethionine)
50 mcg
71%
Copper (as copper gluconate)
1mg
50%
Sodium
5mg
Hachimijiogan Herbal Complex Rehmannia (Rehmannia glutinosa) root, Poria (Wolfiporia cocos) whole plant, Chinese yam (Dioscorea oppositafolia) root, Asiatic dogwood (Cornus officinalis) aerial part, Barrenwort (Epimedium grandiflorum) aerial part, Water plantain (Alisma plantago-aquatica) aerial part, Astragalus (Astragalus membranaceus) root and Cassia (Cinnamomum aromaticum) bark
400 mg
*
Bilberry (Vaccinium myrtillus) Fruit Extract standardized to contain 25% anthocyanins
160mg
*
Grape (Vitis vinifera) Seed Extract standardized to contain 95% polyphenols, including procyanidolic oligomers (PCOs)
50mg
*
Turmeric (Curcuma longa) Rhizome Extract standardized to contain 90% curcuminoids
50mg
*
Lutein 5%
2mg
*
This product does not contain
artificial flavoring
corn
dairy products
gluten
preservatives
sugar
wheat
yeast