Quick Links to Best Prices
120 Capsules
(Buy 1 Get 1 FREE) Price History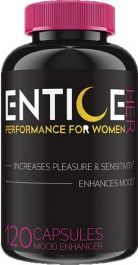 Entice Her Performance For Women
Product Description
PJ Braun, Celeste his wife, and famous adult actress Kendra Lust, bring you Entice Her Performance For Women. Entice Her Performance For Women is proven to increase pleasure & sensitivity, enhance mood, and heighten the overall arousal and experience of making love, or more bluntly sex. Two of the creators or Entice Her Performance For Women are married, and share a lavage lifestyle. A life full of fast super cars, a beautiful elegant mansion, and last but not least both are fitness and bodybuilding enthusiast. We think most people would agree that most aspects of this couples life is not ordinary, but very extreme, and they do everything to the max. This is why the two partnered with Kendra Lust. A famous adult actress to create a superior performance prodcuct called Entice Her Performance For Women. The three teamed up together, with their experience and passion for this project, and set out to create a product that would heighten the sexual experience for women. When formulating the product, they targeted enhanced mood, and enhanced sensitivity.
Who is Entice Her Performance For Women for?
This product is for healthy adult women who are seeking to spice up their love life. Weather the women wants to use this product just for her own pleasure, to make their expereince more sensitive, or to increase their sex drive for their partner, Enice Her can help. This product can help women come to an orgasm easier. This doesn't mean that only women that want help reaching orgasm should take this product. This product is for any women that wants to elevate their sexual expereince to new heights. Try Entice Her Performacne For Women today.
Warning: Keep out of the reach of children. For use by healthy adults only, not recommended for persons under the age of 18. Do not use if you are pregnant or nursing. Seek advice from a healthcare professional if you have any preexisting medical condition to ensure it is safe to take this product.
Supplement Facts
Serving Size: 4 Capsuels
Servings Per Container: 30
Amount Per Serving DV%
Entice Blend 2.9g **
Maca Root Extract, Beta Phenylethalmine, Curcumin 95%, Mucuna Prurlens 98%, Epimedium 10%, Damiana Leaf Extract, Androsta-3,5- diene-7, 17-dione, DHEA, CBD Powder 20%
Daily Value (DV) Not Established
** Percent Daily Values (DV) are Based on a 2,000 calorie diet.
FDA: These statements have not been evaluated by the food and drug administration. This product is not intended to diagnose, treat, cure, or prevent any disease. UPC: 650348781965