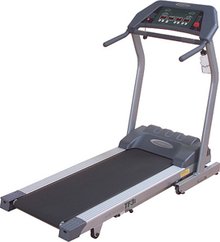 Endurance Folding Treadmill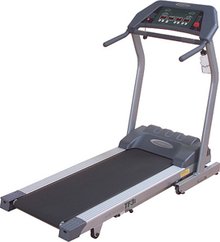 Endurance Folding Treadmill
Features and Benefits
Horse Power Rating : 2.2 HP Continuous Duty; 6.6 HP Peak Duty--
Space Saver: Foldaway Convenience--Easy-to-use foot release; assisted folding mechanism; sturdy mobile transport wheels.
Shock Absorption: Suspended Running Surface (SRS)--Supported by a multi-point shock absorption system. Knees, hips, ankles and feet will feel comfortable, even during long marathon sessions.
Heart Rate Monitor: Contact Heart Rate Monitor --Measures your heart rate by detecting the impulses from your heart as you exercise.
Display Panel: 3-Window LED Console--Includes One Touch Keys for speed, incline, programs and time to take the guess work out of starting your workout program.
Water Bottle Holder--Provides a convenient storage place for water bottles so you can stay hydrated while you workout.
Key Specs
Model Number: TF3i
Minimum Speed: .5 Miles Per Hour
Maximum Speed: 10 Miles Per Hour
Incline Minimum: 0 Percent
Motorized Incline--
Deck Material: 18mm Pre-Waxed Phenolic Deck
Incline--Displays the current percentage of incline in use.
Maximum User Weight: 275 Pounds
Overall Length: 69 Inches
Overall Width: 32 Inches
Treadmill Running Surface Length: 50 Inches
Treadmill Running Surface Width: 18 Inches
Weight of Machine: 209 Pounds